Ed Sheeran wants to release an all-male cover of 'Lady Marmalade' with Justin Bieber and Bruno Mars
30 May 2019, 12:28 | Updated: 30 May 2019, 12:40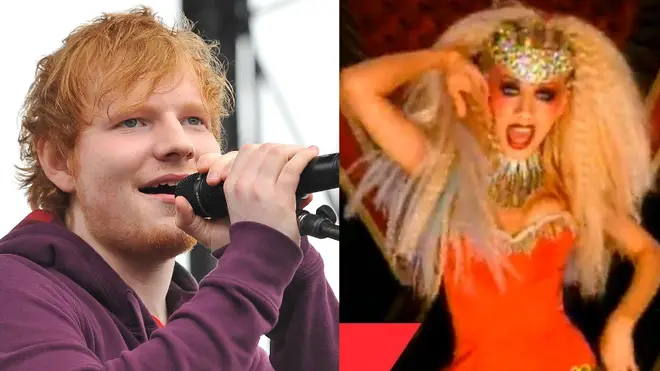 Ed Sheeran had his eye set on a collaboration with Justin Bieber and Bruno Mars to record 'Lady Marmalade' from Moulin Rouge.
In a recent interview, Ed Sheeran shared that his latest album No. 6 Collaborations Project was actually inspired by his idea of recording 'Lady Marmalade' with pop stars Justin Bieber and Bruno Mars.
Originally by Labelle, the all-girl track was later made famous by Christina Aguilera, Pink Lil' Kim and Mya in the film Moulin Rouge! in 2001.
Although the idea never became a reality, it did set the wheels in motion for Sheeran's new collaborative album.
Justin Bieber features on the album with the already released track 'I Don't Care', and other artists will appear which Sheeran deems "artists I'm a fan of."
Ed Sheeran - No.6 Collaborations Project (Charlamagne Tha God Interview)
Ed Sheeran told interviewer Charlamagne Tha God: "This project actually started with one idea I had which was – you remember 'Lady Marmalade' right?"
"This is such a silly idea. I had an idea of doing that, like you could get Bruno [Mars], [Justin] Bieber and me on a record. How fun would that be?"
He has previously collaborated with a number of No. 1 artists, including Beyoncé, Rita Ora, Jess Glynne, Taylor Swift and Andrea Bocelli.
In recent months, he has also written songs for the likes of Bryan Adams and Westlife.
Although Sheeran hasn't revealed who exactly will be on his next album apart from Justin Bieber, Chance The Rapper and PnB Rock, the track listing has been revealed. The album will comprise the following 15 tracks:
1. 'Beautiful People'
2.'South of the Border'
3. 'Cross Me' (feat. Chance the Rapper and PnB Rock)
4. 'Take Me Back to London'
5. 'Best Part of Me'
6. 'I Don't Care' (feat. Justin Bieber)
7. 'Antisocial'
8. 'Remember the Name'
9. 'Feels'
10. 'Put It All on Me'
11. 'Nothing on You'
12. 'I Don't Want Your Money'
13. '1000 Nights'
14. 'Way To Break My Heart'
15. 'Blow'
Ed Sheeran's new album No. 6 Collaborations Project will be released on 12 June 2019.