Elton John in tears after revealing emotional Freddie Mercury story
20 November 2019, 16:59 | Updated: 25 November 2019, 10:13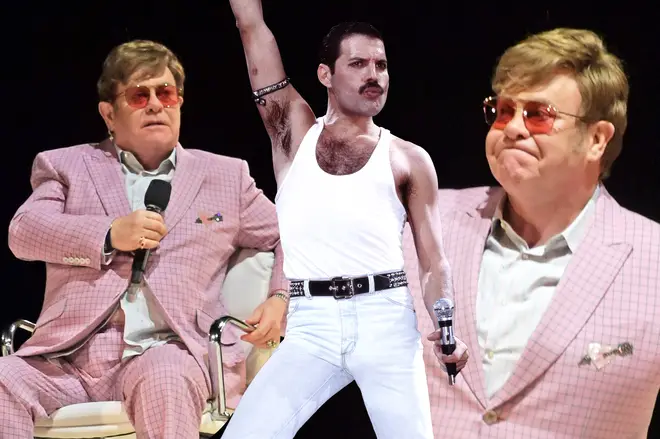 Sir Elton John became emotional during a Q&A with David Walliams last night (November 19), wiping away tears as he recalled memories about his late friend Freddie Mercury.
Promoting the release of his new book, Sir Elton took part in a one-off event titled An Evening With Elton John at Hammersmith's Eventim Apollo.
The 72-year-old revealed he used to go clubbing with Freddie "all the time" along with "dishing the dirt" and "taking drugs" together.
Sir Elton said: "There's nobody like Freddie. He was larger than life. So funny, so gifted. So talented in what he wanted to do in his videos. Using ballet dancing. He had such an incredible mind and was one of the funniest people I've ever met and was so wonderful to spend time with.
"We just used to sit there and dish the dirt basically. And do drugs. And dish the dirt and laugh and laugh and laugh. There was a club in London on Jermyn street that I used to go to a lot. We were there every night.
"It was just great. It was like John Lennon, hanging out with him was a pleasure. There was no attitude, it was just a laugh.
"For me, probably apart from Mick [Jagger] – who I think is probably the greatest singer in a band and entertainer, Freddie was definitely second. I mean, he was beyond belief – he really was!"
Sir Elton went on to tell a story from his time at Live Aid, with Freddie's performance with Queen becoming an iconic moment in pop history.
He told the London audience: "I was at Live Aid and when we did Live Aid I had this big area built backstage which everybody could come and have a drink at, all the artists on the show. I went on before Queen and I wore this ridiculous kind of hat. Freddie came back and they'd completely trounced it!
"I said, 'Well, nobody needn't go on now Freddie, you've just completely and utterly swept the board and you were absolutely brilliant'. He said, 'Yes darling, we were… and what were you wearing? You looked like the f*****g Queen Mother!' And I did."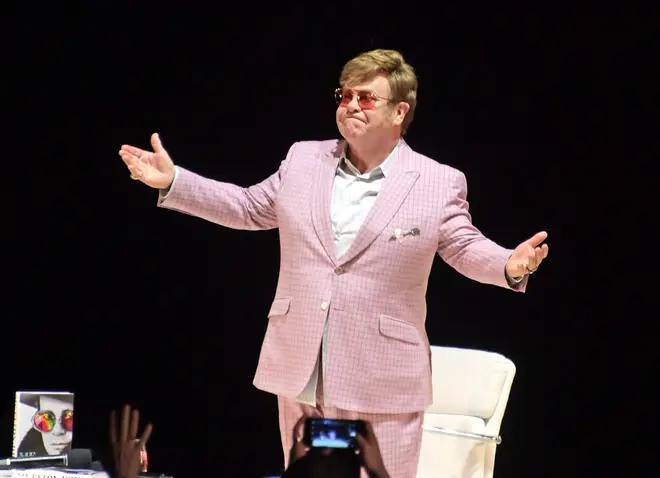 Sir Elton went on to reveal how "terrifying" it became to see Freddie in his later years after illness took hold.
He continued: "I have a house in London which wasn't too far from the house where he spent the last few years of his life. I didn't go and see him often because I found it really, really painful. AIDs was terrifying. He was physically terrifying to look at.
"Freddie loved collecting Japanese art and collecting it at auction. So while he was dying he was still buying things at auction. He would be surrounded on a bed and there'd be medicine all around him. Medicine cabinets and pills and auction catalogues.
"It was astonishing. I thought, 'This is amazing. This man has such a love of life. He's not thinking about dying whatsoever. He's still thinking about art'. He showed no fear to me about dying. No fear or sadness.
"When you went around there you had an audience with Freddie. And after he passed away, the funeral I think was in November and we went to Kensal Rise crematorium and Freddie was a Parsi which was Persian and the whole service was in Parsees which none of us, none of the band who went there to pay tribute to him understood a word of it.
"It was kind of really, really demoralising and upsetting. I collect a painter called Henry Scott Tuke who's a Cornish painter who painted boats and naked boys at the end of the nineteenth century and early twentieth century. He was ostracised for his paintings of boys. But I like to collect them. Not just the boys, the boats as well.
"On Christmas morning Tony King came round and gave me this pillow case. As you read in the book my drag name is Sharon. Rod Stewart is Phillis and Freddie was Melina.
"In this beautiful pillow case was this watercolour by Henry Scott Tuke. In the note that went with it said, 'Dear Sharon, I saw this at auction and thought you would love it. I love you, Malena'."
As Sir Elton began to shed a tear while reciting his emotional memory, he said: "You can imagine how much I cried."
Choking up, Sir Elton weeped: "It was really moving. He was dying and he still thought of his friends and he bought me this. I still have it on it's easel and I still have the pillowcase next to my bed. That is the kind of person he was. He was so so full of love and life. I don't think I've ever met anyone quite like that."
Me: Elton John is out now.
An Evening with Elton John will be available to view on Facebook Watch on November 25 at 7pm through Elton John's official Facebook page.