Michael Bublé "doesn't care" about his career after son Noah's cancer diagnosis
21 March 2019, 14:06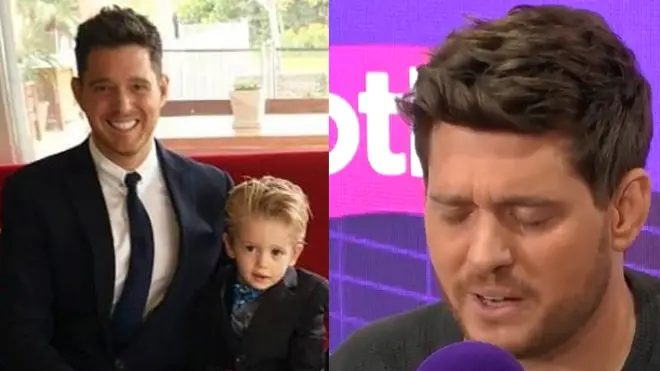 Michael Bublé's family will always come ahead of his career since his 5-year-old son was diagnosed with liver cancer.
Speaking to USA Today, the singer reflected on how his son's illness taught him to appreciate his family more.
The star's son Noah, who has since made a brilliant recovery, was 3-years-old when he got liver cancer in 2016, and two years later Michael's outlook on life is transformed.
"I don't even think about my career,' the singer said. "It is zero on the scale of things to care about.
"It's going to sound sloppy, but I remember sitting there and thinking, 'Why the f*** am I worried about all this s***?'
"That's what I was worried about?" The star continued: "What people thought of me, or the numbers of something? That's c**p. That doesn't matter."
When Noah was diagnosed, Michael cancelled his world tour and took a year's break to focus solely on being with his son and family.
Now, on his current tour for his new album Love, he ensures he is never away from his family for more than three weeks at a time, taking breaks for a fortnight back at home in Canada with his Argentine wife, Luisana Lopilato, and their children, Noah, 5, Elias, 3, and baby Vida.
Visiting Smooth Radio studio in September 2018, Michael spoke of the huge outpouring of love from fans from across the world.
Speaking directly to his fans, Michael said: "I don't love talking about it, it's too painful, really. The truth is, I haven't been given permission from my little boy to go there.
"So, what I can tell you, is that whatever you think of me, just know that when we were going through the worst parts, you people gave me and my wife faith in humanity. You made us realise in the worst times that people are beautiful and caring and empathetic and kind.
"And the reason I am back here and even able to have a record, and come and entertain you is because of you. You showed me the love.
"When we were there in those times, you have no idea how you saved us. Because we knew you were praying for us, we got the messages and we could feel the outpouring of support, and I just want to say thank you."