Michael Bublé's 10 greatest songs ever, ranked
8 February 2021, 17:46 | Updated: 9 February 2021, 11:48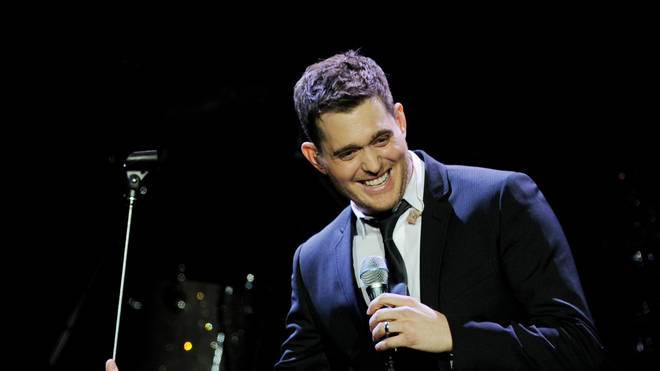 He's one of the greatest (and smoothest) singers of his generation...
But what are Michael Bublé's greatest songs ever?
Here's our personal favourites in no particular order (apart from his Christmas songs, otherwise we'd be here all day), for a perfect Bublé playlist.
'After All' (with Bryan Adams)

Canadian legends unite! This was the third single from To Be Loved, and is a brilliant and fun duet between Michael and Bryan Adams.

Bryan also co-wrote the song, and their voices work surprisingly great together.

'It's a Beautiful Day'

Released from Michael's eighth album To Be Loved, this was the lead single and featured actress Jaime Pressly in the video.

"I have always written these songs about love, or loss or longing," he later said of the song. "I just sat down at the piano and I started to work on this tune and the lyrics just came right out. I was drunk, that's the truth. I have never written anything sober in my life.

"I thought this is a great concept," he explained. "I am going to write this song about a guy whose girlfriend thinks she's the greatest and dumps him. And he realizes that once she is gone, his life gets so much better."

'Feeling Good'

This showtune was written by Anthony Newley and Leslie Bricusse for the musical The Roar of the Greasepaint – The Smell of the Crowd, and it was later a signature song for Nina Simone.

Michael recorded a brilliant and sultry cover version for his 2005 album It's Time.

Love You Anymore

This song featured on Michael's 2018 collection Love, and was co-written by Charlie Puth.

The album was dedicated to Michael's fans for their huge support for the singer and his family while he took a break due his son Noah's cancer battle.

Lost

From his album Call Me Irresponsible, this song was inspired by the breakup with his former fiancée Debbie Timuss.

It gave Michael his first notable UK hit, reaching the top 20 in 2007.

'To Love Somebody'

The Bee Gees first recorded this ballad back in 1967, and it was written by Barry and Robin Gibb.

It has been covered many times since, but we love this version by Michael from his To Be Loved album.

'Cry Me a River'

A standard torch song written by Arthur Hamilton and made famous by Julie London in 1955, it was recorded by many artists before Bublé brought it to a new audience with this big band update.

Hamilton once said: "It sounded like a good, smart retort to somebody who had hurt your feelings or broken your heart". He was initially concerned that listeners would think it was about the Crimea River but that "sitting down and playing the melody and coming up with lyrics made it a nonissue".

Is it just us, or does Michael's version sound like a Bond song?

'Everything'

Michael said of this song: "I wrote that song about the great happiness of real love, but at the same time I was making a statement about the world. We're living in really crazy times, and I wanted to say that no matter what's happening, this person in my life is what really makes it worthwhile."

However, after he broke up with the influence for the song, his ex-girlfriend actress Emily Blunt, he admitted he found it hard to sing live: "I'm OK now. But straight after, well, I didn't want to listen to music. Forget about my music. I couldn't do anything. The only good thing I did do was I went and got a therapist.

"I felt bad for everybody involved. It's definitely worse cause it's all done publicly. You go to the grocery store and it's in every magazine. It's the same thing that's happened in my other break-ups. It's always tough. You grow attached to someone and they become your best friend. You lose a friend – that's one of the most difficult parts. I'm a sentimental person."

'Haven't Met You Yet'

This was arguably the song that transformed Michael into a worldwide superstar. Before this, he was mainly known for cover versions and hadn't had a huge singles hit. But this song reached the UK top 10 and helped his album Crazy Love become a monster success.

He was inspired by his wife, Argentine actress and model Luisana Lopilato for this, who was his fiancée at the time he wrote it.

"I wrote it because I had met this girl and there was nothing solid about anything of it. She didn't speak English. There was every reason to not try to get into this predicament of a relationship, yet I did and it was weird. The song came from that – it was inspired by meeting her.

"You live on your potential as a single person – it keeps you sane. I'm not saying that you can't be alone and be happy but there's this great way to keep your sanity where it's like you know it's going to happen – you just haven't met them yet."

'Home'

This was one of Michael's first hits that was an original song rather than a cover version.

Michael wrote this song for his ex-fiancée, Debbie Timuss, about the pain of being away from her while he traveled the world during their relationship of eight years.