How Phil Collins' 20-year-old son Nicholas took over as Genesis drummer
17 March 2022, 15:36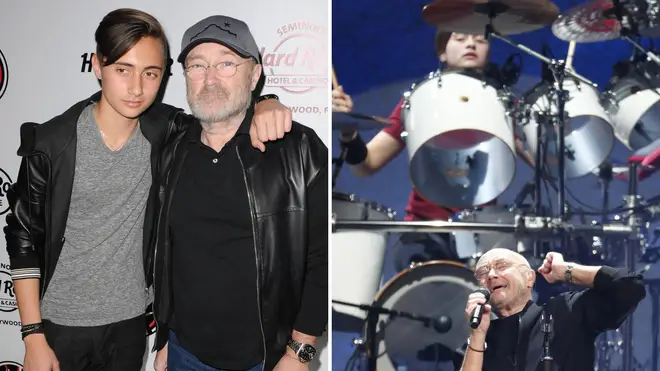 Phil Collins is one of the most famous rock drummers of all time, but he has sadly had to hang up his sticks due to ill health.
While the children of many of music's biggest names go on to follow their parents into music, one of Phil Collins's children is taking the extra step of replacing their father on stage.
Due to various health issues in recent years, Genesis singer Phil Collins is no longer able to play the drums, which is a shame as he was one of the very best.
However, the band - who recently reunited for a final tour - have found a perfect replacement for their live shows. Phil's son Nicholas, who is known as Nic, has taken over as the band's drummer, with Phil staying on as lead singer.
Here is how as a teenager Nic became the drummer of one of the world's biggest bands.
Who is Nicholas Collins?

In 1999, Phil Collins married Orianne Cevey, a Swiss national who worked as his translator in 1994 tour when she was 22.

They have two sons together, Nicholas and Matthew, with Nicholas born in 2001.

In 2006, Collins and Cevey divorced, but later reunited. However, the couple have since split again and Cevey has remarried.

What illnesses has Phil Collins had?

Phil Collins praises 17-year-old son Nicholas as his new drummer

In September 2009, it was reported that Collins could no longer play the drums, due to a recent operation on a dislocated vertebrae in his neck. A year later, he spoke of feelings of depression and low self-esteem.

In October 2014, Collins told the BBC that he still could not play the drums, and that his problem was an undiagnosed nerve issue where he was unable to "grip the sticks". He confirmed in 2016 that he was still unable to drum with the left hand.

Phil Collins performing with Genesis in 2022. Picture: Getty

In June 2017, he announced that he suffered from 'drop foot' as a result of a back operation, which makes it difficult to walk. He slipped in his hotel room and hit his head in the fall on a chair.

He was taken to hospital to have stitches for a severe gash on his head close to his eye. In 2018, it was reported that Collins walked with the assistance of a cane, and had to perform concerts while sitting in a chair.

When did Nicholas start touring with his father?

Phil Collins - In The Air Tonight (Live BST Hyde Park, London - June 2017)

Nic first performed on his dad Phil's most recent solo tour, starting in 2017, when he was only 17 years old.

"It's not because he's the boss' son that he's playing the drums, it's because he's good enough," Phil said on The Project at the time, explaining that Nicholas has been playing drums since he was two.

"The band fell in love with him… suddenly it was like he knew what he was doing and wasn't in awe of the situation. I'm very pleased for him, and for me, that we get to go through this together."

Nic also has his own band called Better Strangers, and they released their debut EP, Luna's Daydream, in 2021.

What has Nicholas said about drumming with his dad?

Nicholas Collins with his parents.

Picture: Alamy

Nicholas posted about performing with his father in 2019, saying: "This tour gave me the chance to represent all the music I grew up with.

"I've had the chance to share the stage with such remarkable musicians and they have helped me progress so much as a musician and I owe so much to them.

"I also owe so much to my dad. He made this all happen and was impeccable from start to finish. To be able to look back on this period of my life and the memories I got to share with my old man is incredible."