These homemade Freddie Mercury rooftop tributes are incredible - video
24 April 2020, 15:08 | Updated: 24 April 2020, 15:21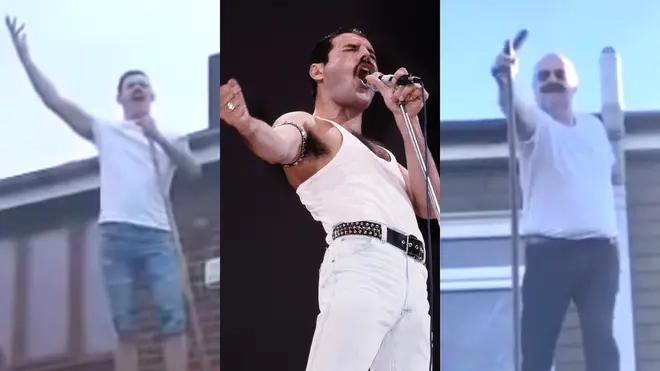 With even Prince Charles claiming that funny videos are cheering him up during lockdown, a pair of tributes to Freddie Mercury's Live Aid performance are head and shoulders above the rest.
A couple of videos are doing the rounds of men attempting to recreate Freddie's iconic Live Aid crowd interaction while stuck in lockdown.
One man is seen holding a broom handle on the flat roof of his home as he sings along to Freddie's famous crowd pleasing duet he performed with the audience at the 1985 Wembley gig.
Dah o Freddie mercury my son lockdown boredom queen funny sing a long
Wearing cut off jeans and a white t-shirt, the man channels all of Freddie Mercury's swagger as he sings with an invisible audience - all to the background of the live soundtrack from the charity concert. The video was posted by Felicity Griffiths on YouTube earlier this month.
Lip syncing a range of Freddie Mercury's 'Day Oh's' the clip was originally posted on Twitter with the caption: 'Day 2746439270 and this is what my husband has resorted to'.
We're also very appreciative of this effort posted by Martin Webb on TikTok, even if this Freddie looks a tad like Tom Hardy in Bronson:
The Freddie Mercury tribute is the latest in great videos being produced during Britain's coronavirus lockdown, including some from the stars themselves.
Recently created videos include Marti Pellow performing some of his classic hits during one a lockdown session, Gary Barlow's daily duet 'Crooner Sessions' and Robbie Williams singing a Glen Campbell song to get his baby to sleep.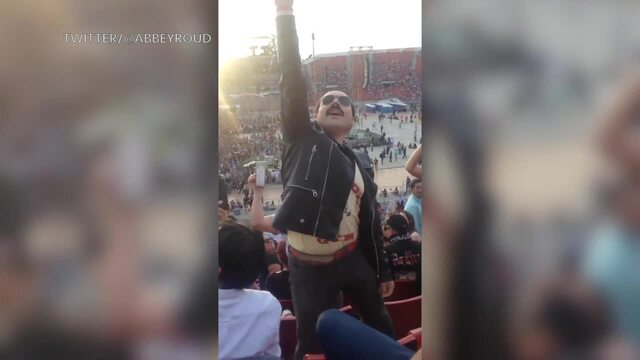 Freddie Mercury lookalike entertains crowd at Paul McCartney concert in Chile