Who is Paul Rodgers and when was he the lead singer of Queen?
22 June 2020, 16:32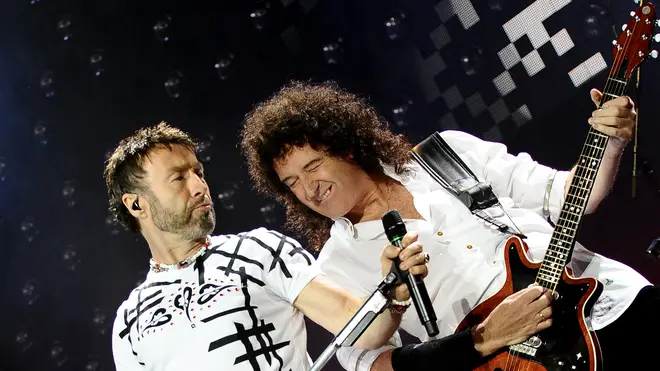 Queen were one of the world's biggest bands with Freddie Mercury as their frontman, and it seemed impossible for anyone to replace him.
Following Freddie Mercury's passing in 1991, the surviving members of Queen - Brian May, Roger Taylor and John Deacon - decided to part ways, aside from the posthumous group album Made in Heaven in 1995.
Aside from one-off dabbles with other singers such as Robbie Williams and even the boyband Five, it wasn't until the mid-2000s that Queen returned with a brand new semi-permanent frontman.
While Brian and Roger now regularly tour with singer Adam Lambert, before him came singer Paul Rodgers.
Who is Paul Rodgers?

Free Perform Live In Leeds. Picture: Getty

Paul Rodgers is an English-Canadian singer and musician.

In the 1960s and 1970s, he was the lead vocalist of bands Free and Bad Company.

After appearances in the bands The Firm and The Law in the 1980s and early 1990s, he became a solo artist.

A poll in Rolling Stone magazine ranked him number 55 on its list of the '100 Greatest Singers of All Time'.

John Mellencamp called Rodgers 'the best rock singer ever', while Freddie Mercury himself was a fan of Rodgers and his aggressive style of singing.

His biggest songs include 'All Right Now' with Free, and 'Can't Get Enough' and 'Feel Like Makin' Love' with Bad Company.

How old is Paul Rodgers?

Paul Rodgers was born on December 17, 1949. He celebrated his 70th birthday in 2019.

He was born in Middlesbrough.

When did Paul Rodgers join Queen?

Queen + Paul Rodgers - Bohemian Rhapsody live in Japan 2005

In late 2004, after a successful live TV performance, Brian and Roger proposed a collaboration with Rodgers, where he would sing lead vocals on a European tour.

Rodgers joined the duo, with the group billed as 'Queen + Paul Rodgers', and they toured worldwide in 2005 and 2006.

Brian May's website stated "that Rodgers would be 'featured with' Queen as: "Queen + Paul Rodgers", not replacing the late Freddie Mercury".

The group also released a live album with songs from Queen, Bad Company and Free, called Return of the Champions. A studio album The Cosmos Rocks followed in 2008.

When did he leave Queen?

Paul Rodgers, Brian May and Roger Taylor. Picture: Getty

On May 14, 2009, Rodgers announced he was ending his five-year-long collaboration with Queen.

However, he did not rule out the possibility of working with them again one day.

"At this point we're gonna sit back from this," Rodgers said at the time. "My arrangement with Queen was similar to my arrangement with Jimmy [Page] in The Firm in that it was never meant to be a permanent arrangement.

"I think we made a huge success of it, actually. We did two world tours and a couple of live recordings, and...made a studio album which was pretty historical for [Queen] because they hadn't really gone in the studio with anybody and recorded something like that for a very long time. So it was quite an achievement, I think."

He added: "It's kind of an open book, really. If they approach me to do something for charity, for instance, or something like that.. I'd be very much into doing that, for sure."