Robbie Williams makes fan Leslie's life complete with 'Somethin' Stupid' serenade - video
15 July 2019, 10:48 | Updated: 15 July 2019, 10:50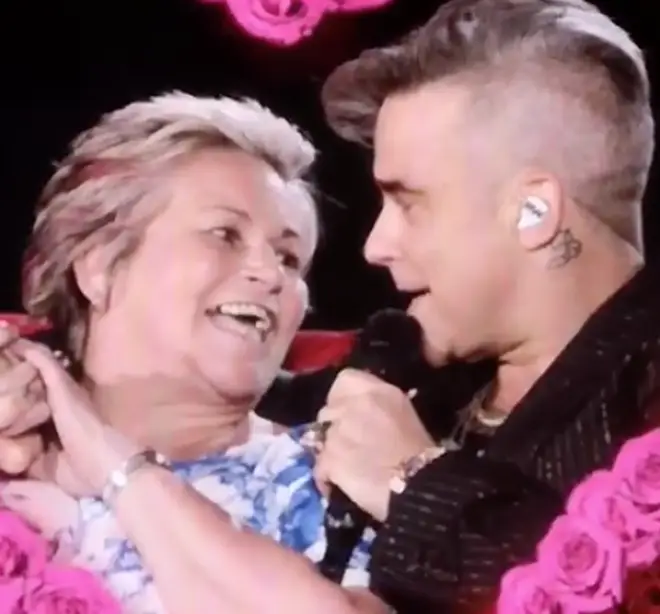 Robbie Williams put on a fantastic show as he closed out this year's British Summer Time festival in London's Hyde Park last night (July 14).
The 'Feel' singer performed for two hours, entertaining the thousands of attendees as you'd expect from such a showman.
His set included a mix of classic hits like 'Angels' and 'Come Undone', forgotten favourites like 'No Regrets' and 'Eternity', and singalong covers such as 'Land of 1,000 Dances' and 'It Wasn't Me'.
One of several highlights included bringing out his father Pete for a burst of Neil Diamond's 'Sweet Caroline', and giving a personal serenade to fan Leslie on 'Somethin' Stupid', after he brought her up on stage:
Sadly, there was no surprise appearance from Take That on 'Never Forget' (he brought up his former X Factor acts for that one), or Kylie Minogue on 'Kids', but he didn't need them.
"I wouldn't go without doing the hit," he said before bursting into old favourite 'Angels', which still sounds rather euphoric in such a stunning atmosphere in the heart of the summer.
His encore was simply to kickstart a singalong of 'My Way', before telling everyone: "I've got a smile in my heart and a bigger one of my face." So did we!
Robbie Williams setlist: What songs did he perform?
Let Me Entertain You
Monsoon
Old Before I Die
Land of 1000 Dances
Candy
Come Undone
Never Forget
Sweet Caroline
It Wasn't Me
Love My Life
Eternity
Somethin' Stupid
Millennium
Hot Fudge
Feel
No Regrets
Kids
Rock DJ
She's the One
Angels
My Way
Robbie followed last weekend's headliners Celine Dion, Stevie Wonder and Barbra Streisand, while Bob Dylan, Neil Young and Florence + the Machine performed in the days before him.