7 artists who should have a movie biopic next
18 July 2019, 16:56 | Updated: 22 July 2019, 14:23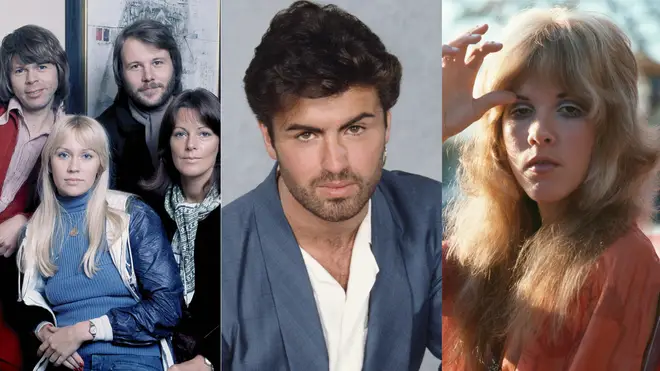 Since the surprisingly massive success of Bohemian Rhapsody, Hollywood is chasing the next big music biopic.
Following the Freddie Mercury and Queen movie's near-billion dollar box office takings, we've had Elton John's Rocketman, and will soon see films about the likes of Aretha Franklin, David Bowie, Judy Garland, Boy George and Dusty Springfield, to name just a few.
But which artists should definitely get a movie based on their life and career? Here's our top requests:
George Michael

Title: Careless Whispers

For anyone who watched George Michael's documentary Freedom already knows that the late singer lived a fascinating life, full of ups and downs (and of course, brilliant music).

From meeting Andrew Ridgeley to form Wham!, to writing 'Careless Whisper' about a love triangle, to discovering his sexuality and his high-profile court case with Sony, this would be a fantastic story to be told.

At least we have Last Christmas coming later this year.

Fleetwood Mac

Picture: Getty

Title: Rumours

We're frankly amazed that this hasn't happened already. If there's one period of popular music history that was so incredibly tense and messed up, yet created something utterly perfect, it was the making of Fleetwood Mac's Rumours.

After six months of touring, Christine and John McVie had divorced after eight years of marriage, and stopped talking to each other socially.

Lindsey Buckingham and Stevie Nicks were in the middle of an on/off relationship that led to many fights, and Mick Fleetwood discovered that his wife Jenny was having an affair with his best friend.

Despite all this turmoil, they managed to stay together as a band and channeled all their angst into one incredible record, which remains one the most revered of all time.

ABBA

Picture: Getty

Title: The Winner Takes it All

Similar to Fleetwood Mac, these Swedish gods and goddesses had an equally turbulent time and still produced incredible music.

By 1980, Bjorn Ulvaeus and Agnetha Faltskog had divorced, while Benny Andersson and Frida Lyngstad were pretty much separated. In fact, both men would be married to new partners by the end of 1981.

Despite this ridiculously awkward working environment, they put their heads together and came up with some of their best material, including the heartbreaking 'The Winner Takes It All', a song about the end of a relationship. Bjorn said their divorce didn't inspire the song, but we reckon it helped.

Andy Gibb

Andy Gibb. Picture: Getty

Title: Shadow Dancing

While the Bee Gees themselves would also make for a great movie, we reckon the story of their tragic younger brother would really tug on the heartstrings.

The youngest Gibb brother became a star in his own right in the late 1970s, scoring several international number ones.

However, by the mid-80s his star had faded somewhat and he suffered from various addictions, and sadly died at the age of 30 by the end of the decade.

Dolly Parton

Title: Coat of Many Colours

We're cheating here, because this film has already actually happened. But chances are, you've never seen it.

Originally airing on US TV in 2015, this film depicted Dolly's upbringing in 1955 while her family struggled to live in Tennessee's Great Smoky Mountains. However, young Dolly hopes to make something of herself.

While the original focused on just her childhood, the full movie would be centred on Dolly throughout her life and career, and how her mum's hand-stitched patchwork coat followed her wherever she went.

Simon & Garfunkel

Simon and Garfunkel. Picture: Getty

Title: Bridge Over Troubled Water

This duo had their fair share of fallouts during their relatively small time together as recording artists, and their on-off feud remained a constant for the next few decades.

The film could focus on their 1981 reunion, where they staged a free concert for over 500,000 people in Central Park, New York.

After years of animosity, the pair briefly buried the hatchet for an outstanding show, but how long could that last?

Stevie Wonder

Stevie Wonder. Picture: Getty

Title: Fingertips

Focusing on Stevie's early years when he was known as Little Stevie Wonder, the film would be centred on the genius when he was discovered as a very young musician by Motown's Berry Gordy.

Aged just 11, the blind boy from Michigan would amaze everyone he performed in font of, soon becoming a worldwide superstar.