The Story of... 'Fast Car' by Tracy Chapman
19 June 2023, 15:31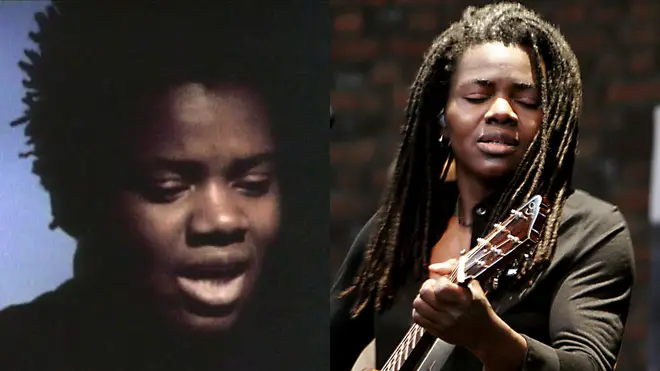 It's one of the most beloved ballads of the 1980s, and one of the finest acoustic love songs of all time.
But what is Tracy Chapman's timeless tune about and who has covered it? Here are all the big facts behind the song...
Who wrote 'Fast Car' and what is its meaning?

Tracy Chapman - "Fast Car" (Official Music Video)

Speaking to Q magazine, Tracy Chapman once said: "It's not really about a car at all.

"Basically it's about a relationship that doesn't work out because it's starting from the wrong place."

According to Metro Weekly critic Chris Gerard, the song tells a grittily realistic story of a working poor woman trying to escape the cycle of poverty, set to folk rock music.

American singer Chapman wrote and performed the song for her self-titled debut album, released in 1988.

How did it perform in the charts?

Tracy Chapman performing at a concert held to celebrate the release of African National Congress (ANC) leader Nelson Mandela from prison. Picture: Getty

Her appearance on the Nelson Mandela 70th Birthday Tribute was the catalyst for the song's becoming a top 10 hit in the United States.

After Stevie Wonder was unable to perform at the event due to a programming mishap, little-known Tracy - who had already performed - filled the gap.

The two appearances shot her to stardom, with two songs from her recently released first album, 'Fast Car' and 'Talkin' 'Bout a Revolution'.

Before the concert, she had sold 250,000 albums. In the following two weeks, she was said to have sold two million.

In the US, the song peaked at number 6, and it reached number 4 in the UK.

It returned to the UK charts again in 2011, again peaking at number 4, after Michael Collings performed it on Britain's Got Talent. It has sold over 650,000 copies in the UK alone.

'Fast Cover' cover: Who else has covered it?

Jonas Blue - Fast Car ft. Dakota

Two dance music cover versions were released near the end of 2015.

Jonas Blue was just 21 when he released his own version, and wasn't even alive when the original was released. However, it was one of his mother's favourite songs, and he heard it a lot growing up.

Struggling to find a vocalist for the song, he hired a young singer named Dakota, whom he spotted performing in a pub. This version went to number one in Australia and was a hit across Europe, reaching number two in the UK.

Around the same time, Swedish DJ Tobtok (Tobias Karlsson) released his own version with the song 'River'. This was also a hit in Australia, reaching number 19.

There have also been covers by:

- Hundred Reasons
- Mutya Buena
- Kelly Clarkson
- Jasmine Thompson
- Sam Smith

In 2023, country star Luke Combs scored a big hit in the US charts with his cover of 'Fast Car'.

Speaking to Smooth Country, Luke explained why he wanted to record a studio version of the song on his new album, saying: "It's one of the first songs I ever remember hearing riding around in the truck with my dad.

"I was probably gosh, I don't know, five years old, something like that. And he had that album on cassette tape and that song has just always been a big part of my life ever since I can remember.

Luke Combs interview: Ed Sheeran friendship, 'Fast Car' cover and more! | Smooth Country

"It's always been one of my favourites and covered it in college and just kind of continued to play it around the house or whatever, and did a video of it in 2020 kind of during the whole Lockdown thing.

"And I just figured, why not? It's been such a big part of my life that I just figured it would be cool to do an official version of it."

Also, Gabrielle's original demo version of 'Dreams' featured a sample of 'Fast Car', but was not officially released due to copyright issues.