Luke Combs reveals sweet reason why he covered Tracy Chapman's 'Fast Car' on new album
24 March 2023, 09:00 | Updated: 8 November 2023, 18:16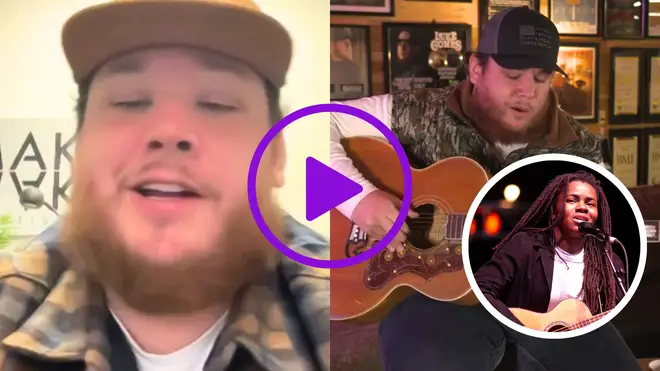 Luke Combs is really spoiling us. The country superstar is back with a new album less than a year after his last.
The 33-year-old releases his fourth studio album Gettin' Old today (March 24), as the sequel to last summer's Growin' Up.
Luke Combs caught up with Smooth Country's Eamonn Kelly to talk about the album and his upcoming plans.
On the album is a cover of Tracy Chapman's classic track 'Fast Car', a song he has performed live in the past, and there's a family connection behind it.
Speaking to Eamonn about why he wanted to record a studio version of the song on the album, Luke explained: "It's one of the first songs I ever remember hearing riding around in the truck with my dad.
"I was probably gosh, I don't know, five years old, something like that. And he had that album on cassette tape and that song has just always been a big part of my life ever since I can remember.
"It's always been one of my favourites and covered it in college and just kind of continued to play it around the house or whatever, and did a video of it in 2020 kind of during the whole Lockdown thing.
"And I just figured, why not? It's been such a big part of my life that I just figured it would be cool to do an official version of it."
Luke Combs - Fast Car, Tracy Chapman cover
Talking about the album, Luke added: "It was all kind of recorded and written at least for the intent of being on, you know, what at the time would have been my third album.
"So as we recorded these songs, it just kind of became apparent that there was really two separate groups of songs that didn't really fit together. And so I decided that it would be a good idea to just make them kind of two separate things.
"And then I think the way they're interconnected is just that they were all kind of written in the same time frame, right, in the writing process for what would have been my third album. And it ended up kind of being two different things."
Luke Combs' album Gettin' Old is out now. He will tour the UK in October 2023, get tickets here.