The Story of... 'Amazed' by Lonestar
15 June 2023, 13:32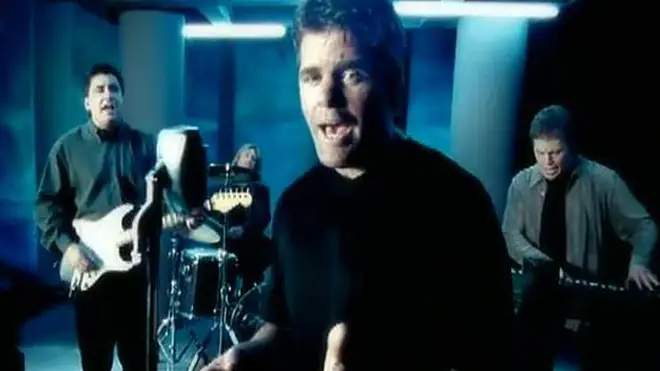 It's one of the most romantic country songs of all time, and has become a wedding first dance favourite.
Lonestar became a brief UK chart sensation after its release in 2000, and have continued to be a hugely popular country group in their homeland, but this will forever be their signature song.
Here are all the important facts about the classic hit, including who wrote it and its main inspirations.
Who wrote 'Amazed'?

Aimee Mayo. Picture: Getty

The song was co-written by songwriters Marv Green and husband-and-wife Aimee Mayo and Chris Lindsey.

All three were based in Nashville, and teamed up to write this song, and it was by far the biggest hit for each of them.

What inspired the song?

When the trio wrote the song, Lindsey and Mayo were in the early stages of their relationship, and drew inspiration from their new romance for the song.

"Our feelings for each other just started coming out as we were writing," Mayo said.

Who are Lonestar and how did they get the song?

Lonestar - Amazed (Official Video)

Formed in 1992, Lonestar are an American country group consisting of Richie McDonald (lead vocals, acoustic guitar), Michael Britt (lead guitar, background vocals), Dean Sams (keyboards, acoustic guitar, background vocals), and Keech Rainwater (drums).

Before 'Amazed', they had released two studio albums in the 1990s, and had scored a number of country music hits in the States, but were virtually unknown in the UK.

Co-writer Mayo said: "About six months [after writing] Jim Catino at Dreamworks [Lindsey's label] played the song for Lonestar producer Dann Huff and he loved it."

Lonestar then recorded the song on their Lonely Grill album, along with one of Lindsey's songs, 'Smile'.

How did it perform in the charts?

The song reached number one on the Billboard Hot Country Singles & Tracks and stayed there for eight consecutive weeks.

'Amazed' spent 41 weeks on the country singles chart, giving it the second-longest chart run of any country single in the 1990s.

The single later crossed over into the pop charts, entering the Billboard Hot 100 at number 81. It peaked at number 24 on its first run, and had sold 1,628,000 digital copies in the US as of December 2015.

In the UK, it only peaked at number 21 in the year 2000, but stayed in the top 40 for 17 weeks, a very rare feat at the time.

There are two different popular versions

Lonestar Amazed ( The Captain's Mix )

Alongside the original country version of the song, it was also remixed for pop radio, which was a common tactic used to sell country to mainstream audiences.

The new 'Captain' remix's popularity helped the song re-enter the charts, and eventually hit number one in March 2000 in the US.

The meant it had become the first new country song to top the pop charts since Kenny Rogers and Dolly Parton's 1983 duet 'Islands in the Stream'.

Lonestar still love singing it

Lonestar. Picture: Getty

Singer Richie McDonald told Songfacts: "Artists wait for a song like that to come along that can take their career to another level, and that song did that for Lonestar, and that's something that we'll never forget.

"And it's not just the impact that it had on our careers, but the impact that it has on the fans. I mean, 10 years later it still has the same effect. That song to me is just a classic, timeless song.

"And it is that song that took Lonestar to another level. We will never, ever get tired of playing that song, just because we still have fans come up to us night after night saying that's the song they got married to, the song they use on their anniversary.

"That's what music is supposed to be about: if you can get in touch with people's emotions, you can become a part of their story, as well. We've made an impact on people's lives and that means more than anything to us."

Who has covered it?

Blue singer Duncan James recorded the song for his debut album Future Past in 2007, but it did not chart.

It has also been covered by:

- Boyz II Men

- Ben Mills