The Story of... 'Take My Breath Away' by Berlin, the Top Gun power ballad anthem
5 May 2022, 16:28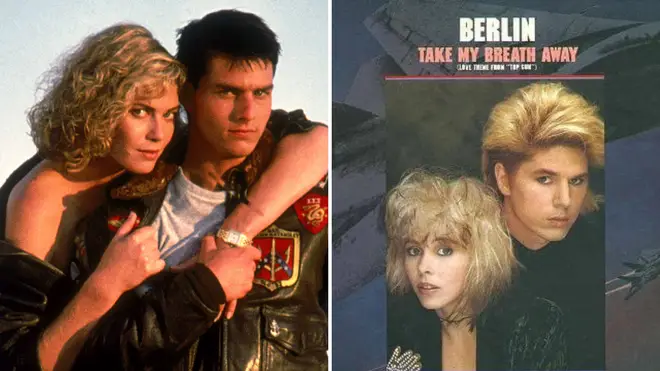 It's one of the ultimate power ballads of the 1980s, and you can't help but think of Tom Cruise in his finest aviators.
With Top Gun: Maverick out at cinemas in 2022, it has got us all nostalgic about the original 1986 action movie's incredible soundtrack.
Kenny Loggins rocked out to 'Danger Zone' (it was originally meant to be Toto, REO Speedwagon or Corey Hart), Harold Faltermeyer provided the '80s score, and there were tunes from Cheap Trick, Miami Sound Machine and the Righteous Brothers. Bryan Adams was also approached but he declined!
And then of course was Berlin's romantic power ballad 'Take My Breath Away'. They may have been one-hit-wonders, but what a song to do it with.
Here's all the fascinating facts you need:
Who wrote 'Take My Breath Away'?

Berlin - Take My Breath Away

Super producer Giorgio Moroder wrote the musical backing to what would become the famous song.

Lyricist Tom Whitlock wrote the lyrics while driving home from the studio, and then spent a few hours at home perfecting them.

What movie was it used in?

It was written specifically for the movie Top Gun, one of the movies that made Tom Cruise a star in 1986.

A demo of the song, sung by a background singer, impressed the film's director Tony Scott and producers Jerry Bruckheimer and Don Simpson.

Because of this, they decided to film more romantic scenes between Cruise and co-star Kelly McGillis in order to feature the song.

Who were Berlin and how did they get involved?

Berlin in 1987. Picture: Getty

The song was first offered to American new wave band The Motels, who later released their original demo on their compilation album Anthologyland.

Columbia Records suggested other artists, but Moroder thought of the band Berlin, who he had produced the song 'No More Words' for.

Whitlock made a few lyrical changes, before Berlin singer Terri Nunn recorded the vocals.

Berlin are an American new wave band, originally formed in California (not Germany!). They had a few hits before 'Take My Breath Away', and its members included John Crawford (bass, vocals), Terri Nunn (vocals), David Diamond (keyboards), Ric Olsen (guitar), Matt Reid (keyboards) and Rod Learned (drums).

Moroder has since said that of all the many hits he has had, he is most proud of this song.

How did it perform in the charts?

Amazingly, it was actually the second single from Top Gun after 'Danger Zone' by Kenny Loggins.

It was a UK and US number one hit in 1986, and also topped the charts in Canada, the Netherlands, the Republic of Ireland and Belgium.

It was also the fifth best-selling single of 1986 in the UK

Where are Berlin now?

Berlin - Terri Nunn "Take My Breath Away" @Epcot 05/01/2017

Berlin are still together 30 years after their biggest hit.

In 2016, Terri Nunn announced that after various lineup changes, the original members (Crawford, Nunn and Diamond) have been writing new material, and are planning a tour and new album soon.

However in 2018, Diamond and Crawford performed with the Nunn-fronted version of the band. Rather than replacing any existing members, Diamond and Crawford merged with Nunn's 'current' Berlin to form a six-member line-up.

A new album is expected to be released in 2019.