The Story of... 'You'll Never Walk Alone', Liverpool FC's anthem
8 May 2019, 15:24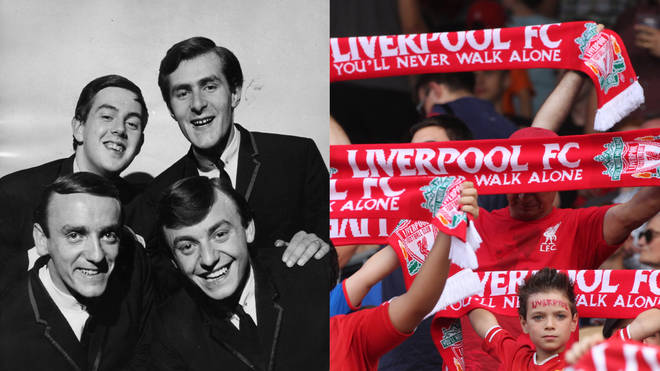 It's impossible to not think of Liverpool Football Club when singing 'You'll Never Walk Alone', but why has the Merseyside team adopted it for decades?
Liverpool FC shocked the world last night (May 7) by somehow managing to overturn a 3-0 first leg to beat Barcelona 4-0 in the Champions League semi-final at Anfield.
It wasn't long before the crowd chanted 'You'll Never Walk Alone' as loud as they possibly could, and it was all rather magical. Even if you're not a Liverpool fan.
But why do Liverpool fans sing the classic '60s tune and where did it come from? Here's all the important facts:
'You'll Never Walk Alone' meaning: Who wrote the song?

The song was written for the 1945 Rodgers and Hammerstein musical Carousel.

In the second act of the musical, the character of Nettie Fowler, a cousin of the main character Julie Jordan, sings 'You'll Never Walk Alone' to comfort her when her husband Billy dies.

It is then reprised in the final scene of the musical, to encourage a graduation class of which Louise - Billy and Julie's daughter - is now a member.

Christine Johnson was the first person to sing it, as she first played Nettie in the original Broadway production.

In the film version, it is first sung by Claramae Turner as Nettie.

Why did Gerry and the Pacemakers cover it?

'You'll Never Walk Alone' had been a favourite song of Liverpudlian Gerry Marsden's ever since he saw Carousel when growing up as a kid.

In 1964, his band Gerry and the Pacemakers recorded a cover version and it reached number one in the UK.

Why do Liverpool fans sing 'You'll Never Walk Alone'?

Liverpool fans were known for singing the then-current pop tunes on the terraces back in the 1960s, as Anfield was one of the first UK grounds to have its own DJ.

Fans would thus sing along to a pre-match chart of the latest top ten hits, many of whom happened to be part of the Liverpool takeover of pop, such as The Beatles, Cilla Black and Gerry and the Pacemakers.

'You'll Never Walk Alone' reached the top 10 just before a home match against West Brom on October 19, 1963. While it can't be known for sure, but it is likely that this was the very first time fans sang along to the tune at Anfield.

The song spent four weeks at number one and ten weeks inside the top ten, but fans kept on singing it long after it fell out of the chart altogether.

By 1965, Liverpool fans can be heard singing 'You'll Never Walk Alone' at Wembley at their FA Cup Final win over Leeds, with TV commentator Kenneth Wolstenholme describing it as "Liverpool's signature tune".

What other teams sing 'You'll Never Walk Alone'?

The song was later adopted by Celtic after a 1966 Cup Winners Cup semi-final against Liverpool at Anfield. It is now sung by Celtic fans before every home European game.

It has also been adopted by Dutch team FC Twente, after it was officially given to them by former Anfield stadiumspeaker George Septhon during the last game in the Diekman stadium.

Also in the Netherlands, Feyenoord and SC Cambuur have adopted the song as well, as have Germany's Borussia Dortmund, 1 FSV Mainz 05, TSV 1860 Munich, Japan's FC Tokyo, Spain's CD Lugo, and Indonesia's Bali United.

In ice hockey, it is used by Germany's Krefeld Pinguine and Croatia's Medveščak Zagreb.

Who else has performed it?

Countless artists!

They include:

- Frank Sinatra
- Roy Orbison
- Judy Garland
- Elvis Presley
- Johnny Cash
- Andy Williams
- Olivia Newton-John
- Doris Day
- Pink Floyd used a recording of the Liverpool Kop choir for their song 'Fearless'
- Queen were inspired to record 'We Are the Champions' and 'We Will Rock You' after hearing fans spontaneously sing the tune at a concert, according to Brian May
- Barbra Streisand performed it at a surprise appearance at the close of the 2001 Emmy Awards, to pay tribute to the victims of the 9/11 attacks
- Aretha Franklin
- Barry Manilow with Cilla Black
- Dionne Warwick
- Glen Campbell
- Josh Groban
- Nina Simone
- The Righteous Brothers
- Robson & Jerome
- Shirley Bassey
- Tom Jones

You'll Never Walk Alone lyrics:

When you walk through a storm
Hold your head up high
And don't be afraid of the dark
At the end of a storm
There's a golden sky
And the sweet silver song of a lark
Walk on through the wind
Walk on through the rain
Though your dreams be tossed and blown

Walk on, walk on
With hope in your heart
And you'll never walk alone
You'll never walk alone
Walk on, walk on
With hope in your heart
And you'll never walk alone
You'll never walk alone