Oscars: Which artists and songs have won Best Song (and which missed out)?
7 February 2020, 13:39 | Updated: 10 February 2020, 09:59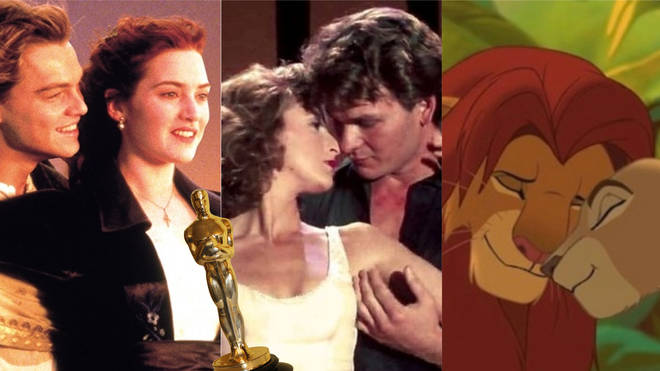 The Academy Awards celebrate the very best in the world of movies each year, and there's one category in particular we're fascinated by.
The Best Original Song category awards the best track written for a film each year, and there have been surprising winners - and losers - over the years.
Here are all the notable awards from past Oscars as we prepare for the 2020 ceremony...
1939: Over the Rainbow (The Wizard of Oz)

It's one of the all-time iconic movie songs of all time, so it makes sense that Judy Garland's ballad won the award for writers Harold Arlen and Yip Harburg.

1940: When You Wish Upon a Star (Pinocchio)

It's now the main theme for all Disney projects, and this early song from the House of Mouse sung by Jimmy Edwards as Jiminy Cricket rightfully took the award in 1940.

1942: White Christmas (Holiday Inn)

It became the best-selling single of all time worldwide after its use in this festive movie. Bing Crosby was the perfect choice for the Irving Berling ballad, and we still play it every December.

1947: Zip-a-Dee-Doo-Dah (Song of the South)

You might not see this now-controversial Disney movie on TV anymore, but this feel-good song sung by James Baskett is always a joy over 70 years later.

1949: Baby, It's Cold Outside (Neptune's Daughter)

2018 was the year in which some people wanted this festive song banned, and everyone has sung it since, but it was first used in this late '40s romcom.

1953: Secret Love (Calamity Jane)

Doris Day became a household name thanks to this western musical, and this love song gave her a huge hit in the UK in the early '50s. Plus, it beat 'That's Amore', made famous by Dean Martin.

1955: Unchained Melody - LOST!

It's now known as one of the greatest love songs ever written, and provided hits for everyone from The Righteous Brothers to Robson and Jerome. But the original from the movie Unchained (hence the title) lost out to 'Love is a Many Splendored Thing' from the movie of the same name.

1961: Moon River (Breakfast at Tiffany's)

Audrey Hepburn's beautiful little tune written by Henry Mancini and Johnny Mercer was a huge hit for many artists including Andy Williams and Danny Williams.

1964: Chim Chim Cher-ee (Mary Poppins)

Pretty much the whole of Mary Poppins' soundtrack could have been nominated, but it was this fun tune from Dick Van Dyke that won the prize overall in 1964.

1966: Born Free (Born Free)

Written by Don Black and John Barry, this Matt Monro song beat the title track from Michael Caine's Alfie in the 1966 race.

1967: The Bare-Necessities - LOST!

Baloo the Bear's ultimate relaxation song from The Jungle Book didn't win in 1967, and was beaten by the lesser-known 'Talk to the Animals' from Doctor Dolittle.

1968: The Windmills of Your Mind (The Thomas Crown Affair)

The soundtrack to Steve McQueen looking super smooth in this spy thriller was enough to win prize, thanks to singer Noel Harrison's haunting vocals.

1969: Raindrops Keep Falling on my Head (Butch Cassidy and the Sundance Kid)

This catchy tune won the prize for Burt Bacharach and Hal David, and it'll always make us think of a cheeky Paul Newman having a bike ride with Robert Redford's girl.

1971: Theme from Shaft (Shaft)

The Oscars embraced the arrival of funk in the early '70s, and gave the prize to Isaac Hayes's slick theme to the action-crime film.

1973: Live and Let Die - LOST!

It's perhaps one of the greatest James Bond songs ever by Paul McCartney and Wings, but it didn't win. Amazingly, it was also the first time a Bond theme was even nominated! It lost out to another classic however, as 'The Way We Were' by Barbra Streisand came on top.

1978: Hopelessly Devoted to You - LOST!

This was the only Grease song to get a nomination, and Olivia Newton-John's ballad didn't win either. The award that year went to 'Last Dance' from Jeff Goldblum's disco movie Thank God It's Friday. Wow.

1980: 9 to 5 - LOST!

The power of Fame was too great for Dolly Parton's insanely catchy '9 to 5'. Not only that, but Willie Nelson also lost out, after his 'On the Road Again' was nominated for Honeysuckle Rose.

1981: Arthur's Song (Arthur)

Lionel Richie almost won an Oscar for his iconic duet with Diana Ross for the movie of the same name. Instead, the award was won by another '80s classic in the shape of Christopher Cross's ballad co-written with Burt Bacharach.

1982: Up Where We Belong (An Officer and a Gentleman)

Sadly, the might of Survivor's Rocky III theme 'Eye of the Tiger' lost out in 1982, but it was at least won by one of the greatest love song duets, sung by Joe Cocker and Jennifer Warnes, helped largely by Richard Gere's suit.

1983: Flashdance... What a Feeling (Flashdance)

Flashdance was nominated twice (as was Barbra Striesand for Yentl), and came out with a trophy with its main theme, sung by Irene Cara.

1984: I Just Called to Say I Love You (The Woman in Red)

Stevie Wonder won an Oscar for his main theme from the otherwise largely panned comedy starring Gene Wilder. It was a tough year, as Phil Collins lost out with 'Against All Odds', as did Ray Parker Jr for 'Ghostbusters' and Kenny Loggins for 'Footloose'!

1985: Say You Say Me (White Nights)

You might not remember the film, but its main song won Lionel Richie an Oscar! In another amazing year, it beat Huey Lewis and the News' 'Power of Love' from Back to the Future and 'Separate Lives' by Phil Collins and Marilyn Martin (also from White Nights).

1986: Take My Breath Away (Top Gun)

It's one of the ultimate '80s power ballads, and it won the Best Song award for Berlin in 1986. It beat another cracker in Peter Cetera's 'Glory of Love' from The Karate Kid Part II.

1987: Time of My Life (Dirty Dancing)

Jennifer Warnes won a second Oscar for her performance of this show-stopper duet with Bill Medley (though we would have love to have seen Patrick Swayze win for 'She's Like the Wind'!). Starship's 'Nothing's Gonna Stop Us Now' from Mannequin lost out that year.

1988 - Two Hearts - LOST!

Phil Collins lost out for a third time when his Buster track lost out to 'Let the River Run' from Working Girl by Carly Simon.

1991: Everything I Do (I Do it for You) - LOST!

It's one of the most iconic movie themes of all time, and was number one FOREVER in 1991, but Bryan Adams didn't win the award. Instead, it went to the main Beauty and the Beast song, as sung by Angela Lansbury. In total, three songs from the Disney classic were nominated that year.

1992: The Bodyguard soundtrack - LOST!

Two wins in two years for Disney, as the main love theme 'A Whole New World' from Aladdin won the prize. This meant that Whitney Houston's HUGE movie The Bodyguard didn't win despite being nominated twice ('I Have Nothing' and 'Run To You').

1993: Streets of Philadelphia (Philadelphia)

Bruce Springsteen's emotional ballad from the hard-hitting Tom Hanks movie deservedly won him a surprising Oscar in 1993.

1994: Can You Feel the Love Tonight (The Lion King)

THREE songs by Elton John and Tim Rice from The Lion King were nominated in 1994, and it went to the love ballad ahead of 'Circle of Life' and 'Hakuna Matata'.

1995: You've Got a Friend in Me - LOST!

Randy Newman's classic from Toy Story sadly didn't win, as it lost out to... you guessed it... Disney. OK, Toy Story is technically Disney too, but still. The award that year went to 'Colours of the Wind' from Pocahontas.

1997: My Heart Will Go On (Titanic)

A different Celine Dion song ('Because You Loved Me') lost out in 1996, but there could only be one winner a year later, as her Titanic theme was the obvious choice. 'How Do I Live' - made famous by LeAnn Rimes and taken from Con Air of all films, was also nominated.

1998: I Don't Want to Miss a Thing - LOST!

Diane Warren's song written for Aerosmith taken from the Armageddon soundtrack was a huge hit around the world, but it lost out to 'When You Believe' by Mariah Carey and Whitney Houston from The Prince of Egypt.

2002: Lose Yourself (8 Mile)

Eminem became the first rapper to win Best Song at the Oscars in his semi-autobiographical movie 8 Mile, and the song itself was a huge hit around the world.

2006: Dreamgirls soundtrack - LOST!

Despite being nominated three times and having the power of Beyoncé, the popular musical didn't win in 2006, and instead lost to 'I Need to Wake Up' from the climate change documentary An Inconvenient Truth.

2007: Falling Slowly (Once)

This indie musical was the surprise winner in 2007, but once you've heard the beautiful ballad by Glen Hansard and Markéta Irglová, it's easy to understand why it won.

2012: Skyfall (Skyfall)

James Bond FINALLY won an Oscar for Best Song after Adele took on the task for the Daniel Craig movie, beating a new song from Les Miserables in the process.

2013: Let It Go (Frozen)

It was always going to be a win for this monster Disney hit, as sung by Idina Menzel, but it did have to beat the monster hit 'Happy' by Pharrell Williams from Despicable Me 2.

2015: Writing's on the Wall (Spectre)

No wins for 50+ years and suddenly two in a row for Bond. This time, Sam Smith won the big prize for his Spectre ballad. It also stopped The Weeknd's 'Earned It' from Fifty Shades of Grey.

2016: City of Stars (La La Land)

It might not have won the Best Picture award (after a messy mix-up!), but it at least won the Best Song award, beating Justin Timberlake's huge 'Can't Stop the Feeling' from Trolls in the process.

2017: This Is Me - LOST!

The Greatest Showman is one of the most successful musicals of all time, but it didn't manage to win the Oscar for Best Song. It was beaten by 'Remember Me' from Coco, if you can actually remember it.

2019: 'Shallow' (A Star is Born)

There was only ever going to be one winner for 2019, the international megahit by Lady Gaga and Bradley Cooper, who also performed it on the night in an electrifying duet.