The 15 greatest pop songs written for the piano
27 March 2020, 10:03 | Updated: 27 March 2020, 10:06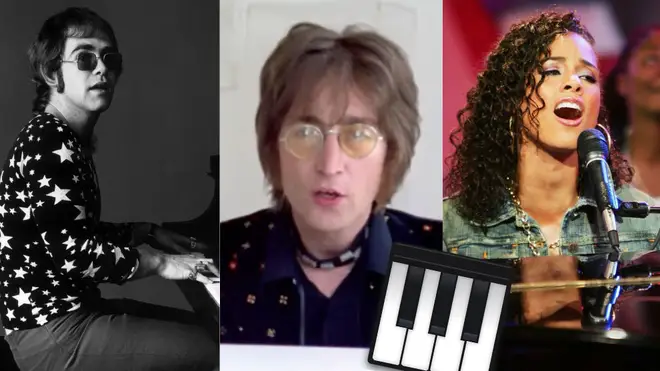 It's World Piano Day on March 28, so what better time to celebrate the greatest pop songs ever written for the ivories?
Sure, pianists might not get up and rock out like other members of the band (well, not all of them anyway), but they definitely help create some of the sweetest and most memorable melodies in pop and rock history.
We've selected some of the very best piano pop songs of all time, so grab your sheet music and get practising:
Joshua Kadison - 'Jessie'

Joshua Kadison - Jessie (Original Videoclip)

A massively underrated love song from the mid-1990s, it features one of the best pop piano melodies of all time.

The person named Jessie in this song was rumoured to be actress Sarah Jessica Parker, with whom Kadison was involved at the time.

Bruno Mars - 'When I Was Your Man'

Bruno Mars - When I Was Your Man [Official Video]

One of Bruno's songwriting partners, Philip Lawrence, said of the inspiration of this love song: "I think Bruno and I are both huge fans of older music, like Billy Joel and Elton John. We always loved those moments where you can sit at the piano and emote.

"Those intimate moments when an artist is so naked and vulnerable; you can't help but be drawn to it. We always wanted to find a stripped down song like that, which is how that song came to be."

Kate Bush - 'The Man with the Child in His Eyes'

Kate Bush - The Man with the Child in His Eyes - Official Music Video

Kate Bush's family's musical influence inspired her to teach herself the piano at the age of 11, and this is a perfect example of her incredible talent.

She wrote this song when she was just 13 and recorded it at the age of 16, at mentor David Gilmour's expense.

The song tells of a relationship between a young girl and an older man. In 2010, it was revealed to have been written about Steve Blacknell, her then-boyfriend. He later said after hearing the song: "I realised there and then that I was in love with a genius."

Adele - 'Someone Like You'

One of the most emotional ballads in recent years, Adele wrote this song after being dumped by an ex-boyfriend.

She later explained: "I can imagine being about 40 and looking for him again, only to turn up and find that he's settled with a beautiful wife and beautiful kids and he's completely happy... and I'm still on my own. The song's about that and I'm scared at the thought of that."

Coldplay - 'Clocks'

Coldplay - Clocks (Official Video)

One of Coldplay's most famous songs, the famous piano riff popped into Chris Martin's mind late one night in Liverpool.

He then presented the riff to the band's guitarist, Jonny Buckland, who then added some guitar chords: "He picked up his guitar [a sure sign that he likes a song] and played these brilliant chords ... It was like a chemical reaction process."

Aretha Franklin - 'Natural Woman'

Aretha Franklin - (You Make Me Feel Like) A Natural Woman [1967]

The Story of... 'Natural Woman'

The song was co-written by legendary songwriting partners Carole King and Gerry Goffin, with input from Atlantic producer Jerry Wexler.

Written specifically for Aretha Franklin, the song was released in 1967 and later included on her 1968 album Lady Soul.

Backing vocals on the song were performed by The Sweet Inspirations, which featured Whitney Houston's mother Cissy.

John Legend - 'All of Me'

John Legend - All of Me (Edited Video)

This love song is one of the biggest hits of the 2010s, and cemented John Legend as one of the most admired singer-songwriters of his generation.

It was inspired by John Legend's then-fiancée, now wife, model Chrissy Teigen. He later told Fuse: "The song is saying things that balance each other out: even when I lose, I'm winning; my head's under water, but I'm breathing fine; I give you all of me, you give me all of you."

Gary Jules and Michael Andrews - 'Mad World'

Tears for Fears first recorded this song in 1982 for their album The Hurting. In 2001, composer Michael Andrews recorded a cover version for the soundtrack for 1980s-set sci-fi drama Donnie Darko, with vocals from friend Gary Jules.

It is a stripped down cover with just an electronic piano backing. It later became the surprise Christmas number one in the UK in 2003.

Jules said of the song: "I think it's a really beautiful example of a person struggling with the fact that life is mad. I honestly think it's one of the most beautiful songs I have ever heard and the way it's stripped down now just pins people."

Robert Miles - 'Children'

Robert Miles - Children (Official Video)

Over the years, the piano has been the instrument of choice for various dance or electronic classics, and this is probably the best.

Robert Miles said one of the inspirations for the song was to create a track to end DJ sets, intended to calm ravers before they drove home in the hopes of reducing car accident deaths.

Alicia Keys - 'Fallin''

Alicia Keys - Fallin' (Official Music Video)

It certainly helps that her surname is Keys.

One of her first, and still one of her best, this R&B/soul anthem sounds like it could have been written decades before, and it became an instant standard.

Alicia discovered she had a passion for the piano at the age of six, and she got her first one as a gift soon after. She had classical piano training by seven, practicing six hours a day, and learned by playing composers such as Beethoven, Mozart, Chopin, and Satie.

Vanessa Carlton - 'A Thousand Miles'

Vanessa Carlton - A Thousand Miles

This piano-driven love song was Vanessa Carlton's debut single and is still her best known hit. But what a hit!

Vanessa has said that the song is about "lost love", although has refused to name the specific individual she is singing about. She has also called the song "a combination of reality and fantasy. It's about a love that so consumes you that you do anything for it. That's how I felt at that time."

Vanessa learned the piano from her mother Heidi Lee, who was also a professional pianist and school music teacher.

The Beatles - 'Let It Be'

Let It Be (Remastered 2009)

The title track of The Beatles' final album, this anthem saw Paul McCartney take to the piano to get his emotional message out.

McCartney said the song came after he had a dream about his mother Mary during a tense period surrounding the sessions for the White Album in 1968.

He later explained that his mother – who died of cancer when he was 14 – was the inspiration for the "Mother Mary" lyric: "I felt very blessed to have that dream. So that got me writing 'Let It Be'."

Billy Joel - 'Piano Man'

Billy Joel - Piano Man (Video)

The semi-autobiographical makes us feel as if were were sitting in the very same bar listening to the great man.

The song is a fictionalised version of Billy's own experience as a piano-lounge singer for six months in 1972.

He later revealed that he had to get away from New York due to issues with his record company, and as he needed work to pay the bills, but couldn't use his well-known name, he worked at the bar as a piano player under the name 'Bill Martin'.

John Lennon - 'Imagine'

Imagine - John Lennon and The Plastic Ono Band (with the Flux Fiddlers)

Read more: The Story of... 'Imagine'

If there's one iconic music video featuring a piano, it's probably this.

Lennon composed 'Imagine' one morning in early 1971, on his Steinway piano, in a bedroom at his Tittenhurst Park home in Ascot.

Yoko Ono watched as he composed the melody, and almost all the lyrics, nearly completing the timeless ballad in one brief writing session.

Elton John - 'Your Song'

Elton John - Your Song (Top Of The Pops 1971)

We all remember that John Lewis advert where Elton John retraced his whole career back to the moment his mum and grandma gave him his first piano, and this is arguably the greatest song he ever wrote on one.

Bernie Taupin wrote the song's lyrics after breakfast on the roof of 20 Denmark Street, London, where Elton worked for a music publishing firm as an office boy, inspiring the line: "I sat on the roof and kicked off the moss".