Brian May has released a perfume: Plus 5 unlikely celebrities you never knew had their own fragrances
7 January 2021, 14:28 | Updated: 7 January 2021, 14:29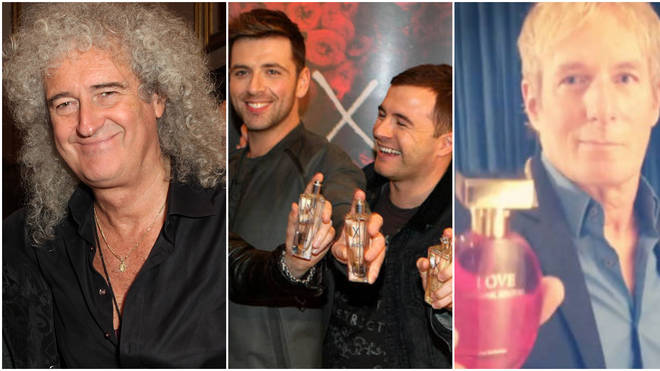 Brian May has released his first perfume with all proceeds benefiting wild animals, yet he's not the first unlikely celebrity to create a fragrance line.
Do you ever wish you could smell like your favourite celebrity?
The biggest names in show business have had a go at launching their own line of perfume, from Elizabeth Taylor to Beyoncé.
While some stand the test of time and sell by the bucketload, there are some that make you stop and think 'who came up with that idea?'
Here are some of our favourite baffling celebrity fragrances:
Brian May

Brian May is releasing a new fragrance and its proceeds will be going to wild animals.

The Queen frontman has long been an advocate for animal rights, so his latest fundraising campaign comes as no surprise to his loyal fans.

Released through Italian company Xeroff, the aptly perfume SAVE-ME is limited edition and every bottle is personally hand-signed by Brian himself.

Posting the news on his personal Instagram account Brian shows an ingredients list which includes notes of tuberose, pink jasmine, ylang ylang and sandalwood.

The perfume will be launched tomorrow (January 8) during a live online presentation with Dr Brian May himself, with a link to the event here.

Brian May has posted images of his new fragrance SAVE-ME on his instagram account (pictured).

Picture: BrianMay/Instagram

Michael Bolton

It's been nearly 30 years since Michael Bolton released his album Time, Love and Tenderness, so what better time to release a fragrance named after it?

Michael Bolton has just unveiled his new perfume range for women, and if there's one 65 year old man who knows what women want, it's him.

Westlife

Picture: PA

Much like with Kiss before them, it's an odd practice to release a perfume based around a band. Does it smell like all of them put together? Or is it the 'essence' of what Westlife is all about.

They released two perfumes, X in 2009 and their 'farewell fragrance' named 'With Love' a year later. Will they release a third now that they're back together?

Bruce Willis

Bruce Willis fragrance.

Picture: LR

Now if there's one 63-year-old man we'd like to smell like, it would be Bruce Willis.

Yep, Bruce went there with his range specifically for 'smart guys', and the advert alone is glorious.

Kiss

Picture: Getty/Kiss

When you think of heavy rock legends Kiss, the first thought probably isn't how good they must smell, especially after a night of sweaty headbanging.

But Kiss did release their own cologne named simply 'Her'.

Carlos Santana

Carlos Santana perfume.

Picture: Carlos Santana

Fancy smelling like guitar legend Carlos Satana? You're in luck.

Carlos instructs you to 'arouse your senses' with his special blend of cinnamon, leather, and cypress in 2005.