Andy Murray tributes pour in after he announces retirement from tennis
11 January 2019, 09:08 | Updated: 11 January 2019, 10:00
Andy Murray has said that he plans to retire after this year's Wimbledon.
The emotional triple Grand Slam winner also warned that next week's Australian Open could be his final ever tournament, depending on his fitness.
Murray has been struggling to recover from hip surgery, and was in tears at a news conference in Melbourne today (January 11).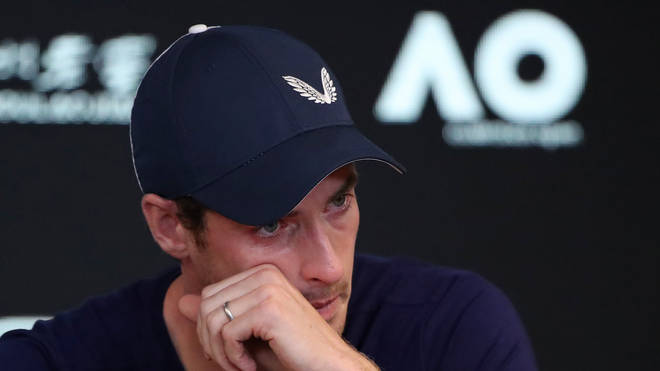 "I'm not sure I'm able to play through the pain for another four or five months," he said.
"I want to get to Wimbledon and stop but I'm not certain I can do that."
Tributes have since come in from the world of tennis and elsewhere since he made his announcement.
Andy, just watched your conference. Please don't stop trying. Keep fighting. I can imagine your pain and sadness. I hope you can overcome this. You deserve to retire on your own terms, whenever that happens. We love you @andy_murray and we want to see you happy and doing well. 🙏

— Juan M. del Potro (@delpotrojuan) January 11, 2019
.@andy_murray You are a champion on and off the court. So sorry you cannot retire on your own terms, but remember to look to the future. Your greatest impact on the world may be yet to come. Your voice for equality will inspire future generations. Much love to you & your family. https://t.co/AQUOP3LGec

— Billie Jean King (@BillieJeanKing) January 11, 2019
What a career @andy_murray keep it going as everybody wants to watch you @Wimbledon in July mate. #🇬🇧GOAT

–– 3x Grand Slams
–– 2x Olympic gold medals
–– ATP Finals
–– 2016 world No.1
–– 14x Masters 1000 titles
–– 8x Grand Slam finals
–– 45 total ATP titles

Legend 🏆🏅🇬🇧 pic.twitter.com/CYphhRvUcC

— Justin Rose (@JustinRose99) January 11, 2019
Andy Murray is our best British tennis player in the Open era. He is one of the best athletes, tactician & competitor to grace our sport.He should be so proud of his incredible career . 3 GS🏆, 1 DavisCup winner,2 Olympic Golds 🥇, Year end World no.1 , 45 titles!👏🏻 👏🏻👏🏻

— Greg Rusedski (@GregRusedski1) January 11, 2019
My heart breaks listening to @andy_murray during his press conference... Hope he will make it through to Wimbledon and have the farewell he deserves . #greatguy

— Kim Clijsters (@Clijsterskim) January 11, 2019
Tennis will come to an end for us all but the friendships will last a lifetime. What you've done for the sport will live on forever. I'm hoping for a strong and healthy finish for you, my friend! @andy_murray pic.twitter.com/Bcs0cdllJp

— Grigor Dimitrov (@GrigorDimitrov) January 11, 2019
Andy Murray is a legend - without doubt one of Scotland's greatest ever sportsmen, as well as an outstanding role model and inspiration for young people everywhere. A credit to sport and to the country. Sending him very best wishes. https://t.co/FAWIv1hbxF

— Nicola Sturgeon (@NicolaSturgeon) January 11, 2019
If this is true, I tip my cap to @andy_murray ! Absolute legend. Short list of best tacticians in history. Unreal results in a brutal era ...... Nothing but respect here. I hope he can finish strong and healthy https://t.co/FZbwmvRC2r

— andyroddick (@andyroddick) January 11, 2019
Andy Murray is the most decorated British tennis player since Fred Perry, with three Grand Slams, two Olympic Golds and a Davis Cup trophy among his many achievements.
He was knighted in 2017 for his services to tennis and charity.