Why do we wear poppies on Remembrance Day and what are white poppies?
8 November 2018, 14:52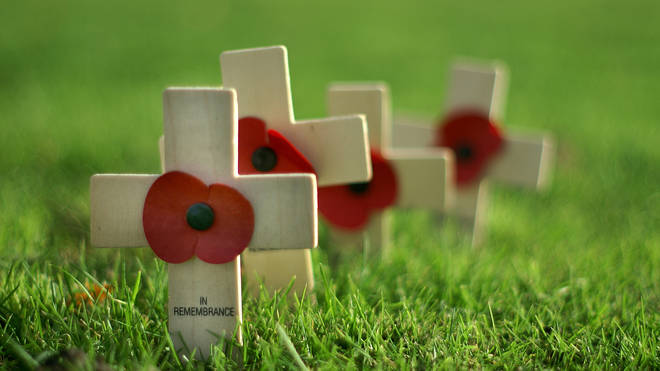 Poppies are such an iconic symbol at this time of year, that it can be easy to forget its significance.
Remembrance Sunday takes place on November 11 this year, and many people across the nation will already be wearing their poppies.
The traditional red poppy is the most popular option by most people, but the white poppy has also risen in popularity.
Here is everything you need to know about the poppy appeal:
Why do we wear poppies?

Picture: Getty

At the end of WWI, poppies grew on several battlefields, particularly in Flanders, Belgium.

This inspired the well-known poem 'In Flanders Fields' by John McRae, which he wrote on May 3, 1915, and was first published that December:

In Flanders Fields by John McRae

In Flanders fields the poppies blow
Between the crosses, row on row,
That mark our place; and in the sky
The larks, still bravely singing, fly
Scarce heard amid the guns below.
We are the Dead. Short days ago
We lived, felt dawn, saw sunset glow,
Loved and were loved, and now we lie
In Flanders fields.

Take up our quarrel with the foe:
To you from failing hands we throw
The torch; be yours to hold it high.
If ye break faith with us who die
We shall not sleep, though poppies grow
In Flanders fields.

Ever since, poppies have become a way to remember those who lost their lives in the war.

In 1921, The Royal British Legion was created, and donations were taken for poppy pins.

The original poppies were made of silk, and sold out very quickly, and raised £106,000.

The donations have continued ever since, and now millions of poppies are sold each year. The money raised helps veterans who may have been affected by fighting in wars.

Today, poppies are made in a factory where disabled ex-forces members work. 2019 marks 100 years since the end of WWI.

How should you wear your poppy and how much are they?

Many people say poppies should be worn on the left lapel, to keep it close to your heart.

This also marks the symbol's military origins, as this is the side medals are worn by the Armed forces.

Others say that the poppy should be worn on the left by men and the right by women, as this is traditional for a badge or brooch.

The positioning of the flower's leaf is also a debate in itself. One theory says that it should be at 11 o'clock, representing the 11th hour of the 11th day of the 11th month – the end of WWI in 1918.

However, the British Legion says there is no right or wrong way. They say: "The best way to wear one is with pride."

All contributions are welcome, but this is the British Legion's guide to the suggested donations for the different types of poppies:

Traditional lapel poppy with stem, or stick-on version - £1.00
Round poppy car sticker - £1.00
Silk poppy with leaf and stem - £3.00
Wooden cross with poppy, also called a Little Remembrance Cross - £2.50
Wooden poppy crescent for placing in the ground- £2.50
Wooden star with poppy for placing in the ground - £2.50
Wooden Sikh Khanda with poppy - £2.50
A secular wooden stake with poppy for placing in the ground - £2.50 

What are white poppies?

The white poppy stands for:

- Remembrance for victims of all wars, not just those in which the British Armed Forces were involved, and not just the wars resigned to history
- A commitment to peace
- A refusal to celebrate or glamorise war itself.

The Peace Pledge Union are responsible for the distribution of White Poppies, and they say they differ from the Royal British Legion, in that they recognise and commemorate the victims of all wars, such as civilians killed in the bombings of Dresden, Hiroshima, Baghdad and Kabul.