Peter Gabriel teams up with Skrillex for new electronic track 'This Is Home'
9 October 2023, 12:48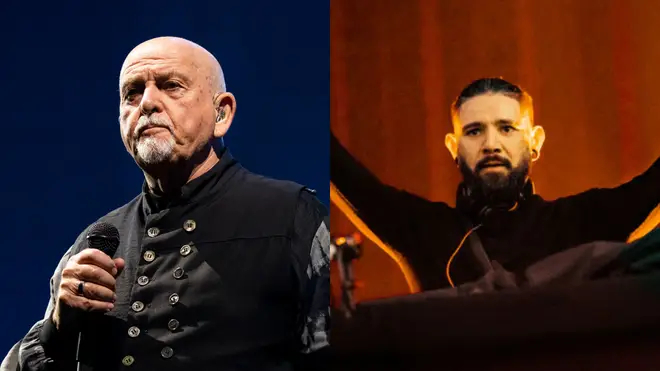 A new song by Peter Gabriel, called 'This Is Home', has been unveiled.
The track was partly influenced by Skrillex, who visited Peter Gabriel's home studio and collaborated with him.
This was revealed by Gabriel, saying: "He was trying to encourage me to write a song about staying up all night in a night club and that sort of thing, but that's not really my life so I made it more about family and home and I like it.
"Though we took the song in this other direction it was an interesting experience nonetheless, and I think it is good for me to be taken outside my normal comfort zone sometimes."
Peter Gabriel - This Is Home (Dark-Side Mix)
Gabriel added: "It began with inspiration from some of the great Tamla Motown rhythm sections so we're trying to recreate that in a modern way, complete with the tambourine and handclaps. The groove I like a lot, Tony Levin does a great bass part there.
"I did an unusual thing for me in that I tried doing this low voice / high voice thing, so you get this almost conversational voice at the beginning and the second part is a higher, more emotional voice. I thought that would be both intimate and emotive to put the two side by side."
The 'Dark-Side Mix' of the song, which is available now, was created by Tchad Blake. It also includes the voices of Orphei Drängar, a Swedish choir, and an orchestral arrangement by John Metcalfe.
'This Is Home' is the 10th song from Gabriel's upcoming album, I/O.
Another song from the album, 'Four Kinds of Horses', features Brian Eno and Richard Russell, the founder of XL Recordings. Gabriel has been releasing songs from the LP on every full moon.
I/O has been in production for nearly three decades, and will be Gabriel's first album of fully new material since 2002's Up.
The tracklisting is:
"Panopticom"
"Playing for Time"
"The Court"
"Four Kinds of Horses"
"i/o"
"Love Can Heal"
"Road to Joy"
"So Much"
"Olive Tree"
"This Is Home"
"And Still" ?
"Live and Let Live"