Peter Gabriel's 10 greatest songs ever, ranked
15 November 2022, 15:04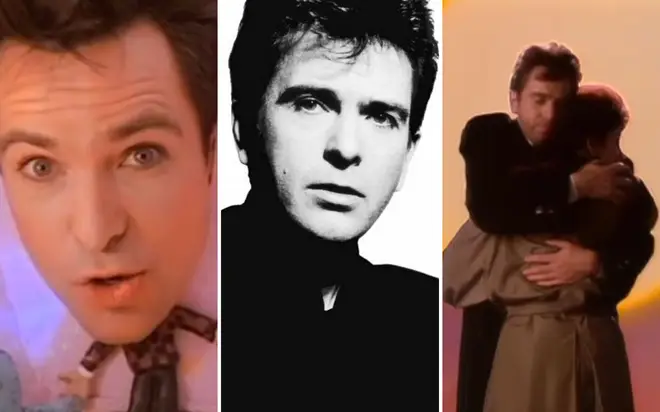 Peter Gabriel is known for being one of pop and rock music's most experimental figures.
But Peter Gabriel is more than capable of writing big radio hits that were both universal and timeless.
Pioneering many of the electronic instruments and recording techniques that are now commonplace in popular music, it was Gabriel's distinctive voice that defined his body of work.
The former Genesis frontman was one of those unique artists whose commercial success coincided with his creative peak, so he never had to compromise on his output.
As a major ambassador of world music, he also introduced mainstream audiences to global sounds that helped change perceptions and open up a (literal) world of music for new listeners.
In 2022, the art-rock icon announced the release of his new album i/o - his first album of entirely original material for twenty years - and a huge world tour to accompany it in 2023
That said, here's the very best of Peter Gabriel's songs, ranked:
'Steam'

From his 1992 album Us, 'Steam' was Gabriel's last major hit in the UK and in the US.

The album featured collaborations with Brian Eno, Led Zeppelin's John Paul Jones, and reported love interest Sinead O'Connor alongside musicians from West Africa, Egypt and Armenia.

Increasingly interested in merging his music with world influences, this big, bold pop-funk freak-out was accompanied by an equally freaky music video.

'Shock The Monkey'

Peter Gabriel - Shock The Monkey

With its synth-rock hook and absurdist lyrics, 'Shock The Monkey' made a huge impact and became Peter Gabriel's first major hit in the US.

Released in 1982, Gabriel's penchant for the theatrical boosted interest in his music videos during the MTV era, featuring his trademark bizarre face paints in several different guises.

He described 'Shock The Monkey' as "a love song" that delves into man's deepest and most basic instincts - if it is in fact a love song, it's most definitely one of the strangest.

'Big Time'

Gabriel's second top ten hit in the US, 'Big Time' poked fun at the nature of commercial success with one of his more commercially sounding and successful songs.

It featured on what many consider to be his best and most accessible album, 1986's So, which catapulted Peter Gabriel from being an experimental cult musician into enormous mainstream fame.

'Big Time' and its upbeat dance-rock stylings featured The Police's Stewart Copeland on electric drums, with Gabriel gushing "he can drive a track like very few others".

'Book Of Love'

Peter Gabriel - The Book of Love

After joining The Magnetic Fields for an encore of the song at a London performance in 2001, Peter Gabriel decided to officially cover 'Book Of Love' himself only three years later.

This gorgeously vulnerable version was recorded for the 2004 Richard Gere-starring romantic comedy Shall We Dance?, and also appeared in various US television series like Scrubs and South Park.

The wisdom in his voice lends itself perfectly to the lyrics - no wonder it's been a wedding favourite ever since.

'Red Rain'

The brooding opener to So, 'Red Rain' became an unlikely anthem on rock music radio in the US, being the album's second single release.

The song was partly inspired by a recurring dream Gabriel had about torrential downpours of red wine, and partly inspired by a film idea he had where villagers were punished for their sins with blood-red rain.

Peter Gabriel's biographer Daryl Easlea later wrote that it reflected "two very current Eighties obsessions: AIDS and nuclear fallout" which gave 'Red Rain' a powerful grounding in amongst the album's other mainstream hits.

'Games Without Frontiers'

Peter Gabriel - Games Without Frontiers

The first of Gabriel's two collaborations with ethereal pop enigma Kate Bush, he was in fact dropped by Atlantic Records before the song's release with the label citing he was committing "commercial suicide".

Ironically 'Games Without Frontiers' became his highest charting single in the UK as a solo artist, and the label wanted to buy the album back to distribute. Gabriel declined.

The oddly haunting and intentionally childlike synth-pop track criticises war and international diplomacy, likening it to children's games.

Its success established Gabriel as a new force in experimental pop music.

'In Your Eyes'

Peter Gabriel - In Your Eyes

This hopeful and bittersweet ballad was as soul-bearing as it got on Gabriel's powerhouse album So.

It was precisely this sentiment that was picked up by director Cameron Crowe, who used the song during the iconic scene in 1989's Say Anything where John Cusack's character plays it from a boombox whilst standing beneath his love interest's window.

The use of 'In Your Eyes' in the scene had a huge cultural impact and catapulted the song back into the US charts.

The inclusion of Youssou N'Dour's native Wolof vocal also helped popularise world music and also spring-boarded the Senegalese artist to global fame.

'Don't Give Up' (feat. Kate Bush)

Peter Gabriel - Don't Give Up (ft. Kate Bush)

If the results of Peter Gabriel and Kate Bush collaborating are 'Don't Give Up', you'd wonder why they didn't work together more frequently.

He actually wrote the song with Dolly Parton in mind however, though the country music icon turned down the chance of a duet.

In stepped the fantastical Bush, and one of the most sparkling, soulful ballads of the decade was born.

Gabriel actually wrote the lyrics about the mass unemployment in the UK at the time, and the song provided comfort and light during many people's darkest times.

'Sledgehammer'

Peter Gabriel - Sledgehammer (HD version)

Whenever you hear the whirling intro and punchy synth-driven beat, you can't help but think of the iconic music video that established 'Sledgehammer' as the song of an era.

It had MTV written all over it and led Gabriel's charge to stateside success, reaching number one on the Billboard Hot 100 and a record of nine MTV Video Music Awards.

The inventive music video definitely helped, but the song itself was the perfect blend of pop, soul, funk, and Gabriel's experimental studio techniques that defined his career.

Undoubtedly the peak of his mainstream fame, the video for 'Sledgehammer' is consistently voted as one of the best of all time. The track itself isn't too bad either.

'Solsbury Hill'

Peter Gabriel - Solsbury Hill

'Solsbury Hill' was one of the first songs Gabriel wrote after quitting Genesis, and the lyrics reflect both his frustrations and newfound freedoms.

Having time to care for his sick daughter whilst living in his country home, he discovered a new love for numerous philosophies around the world, and the single marks his spiritual departure from the band that helped make him a musician.

It's beautifully simple on the surface and full of promise, but also deceptively deep and melancholic.

Wrapped in memories for many, 'Solsbury Hill' is undoubtedly Peter Gabriel's most timeless song.