Gwen Stefani's son Kingston plays first show at stepdad Blake Shelton's bar before couple duet
14 August 2023, 10:48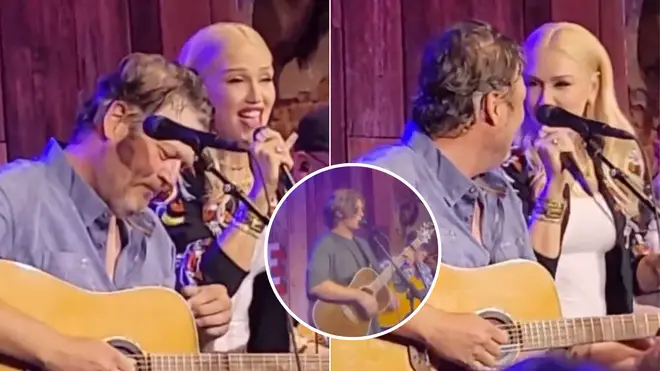 Gwen Stefani's eldest son, Kingston Rossdale, made his public singing debut on Friday night at his stepfather Blake Shelton's bar in Oklahoma.
The 17-year-old, who is the son of Gwen Stefani and her ex-husband Gavin Rossdale, performed with a band at Ole Red in Tishomingo, where he showed off his vocal and guitar skills.
Kingston, who wore a black T-shirt and blue trousers, sang several songs and interacted with the crowd. He thanked them for their support and said that the night meant everything to him. He also received a warm hug from Blake Shelton, who praised his stepson's talent and joked that he was still in competition mode.
Shelton had teased Kingston's performance on X, formerly Twitter, earlier in the week, saying that he would play a 30-minute acoustic set before turning the stage over to a debut artist. He also hinted that there might be some surprise guests at the event.
One of those guests was none other than Gwen Stefani herself, who joined Blake Shelton on stage for a rendition of her hit song 'Don't Speak' with No Doubt.
The newlyweds, who tied the knot in 2021, shared a sweet embrace and a kiss as they sang the '90s classic.
Stefani and Shelton have been vocal about their love and admiration for each other and their blended family. Stefani shares three sons with Gavin Rossdale: Kingston, Zuma, 14, and Apollo, 9. Shelton has said that he loves being a stepfather to the boys and that he has a good inspiration in his own stepfather.
The proud parents must have been thrilled to see Kingston follow in their footsteps and rock the stage at Ole Red. The teen has clearly inherited their musical genes and their passion for performing.