When Gwen Stefani got to perform with her idol Sting after meeting him as a teenager
28 August 2023, 11:00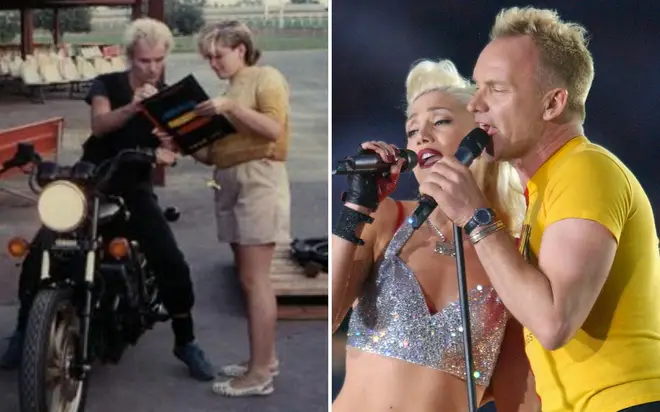 It's comforting to know that celebrities also get starstruck.
After all, when you meet your heroes or the people who inspired you to take a certain path in life, you never know how you're going to react.
That's precisely what happened when Gwen Stefani got to meet her music idol Sting for the very first time.
Though to be fair, the first time she met The Police icon, she was only 13 years old when her own stardom was a distant dream.
But that was the summer when 'Every Breath You Take' was everywhere and transformed the new wave band into the world's biggest.
So you'd understand why Stefani was somewhat starstruck when she met Sting, who was perched on a Yamaha motorcycle and did not seem too pleased about being approached by adoring fans.
It was a moment that came full circle for the former No Doubt singer, who after meeting the object of her obsession twenty years earlier, would eventually be able to perform alongside Sting on stage.
The story of Stefani's teenage meeting with Sting came to light when she gave a speech when The Police were inducted into the Rock and Roll Hall of Fame in 2003.
"I was in eighth grade, about 13 years old when I first heard The Police in my older brother's bedroom. The Police was the first concert I went to."
Stefani then relayed an anecdote about meeting the 'Fields Of Gold' singer, saying that she was "terrified" because she was "in love with him".
"Because my dad worked for Yamaha motorcycles, he got us backstage passes. Yamaha was doing a special promotion for The Police, and they were shooting this poster," she said to the audience.
"And even as a 13-year-old kid, I was aware of the band's reputation for fighting, and that Sting was a little bit scary. All of a sudden Sting takes off on one of the motorcycles and my dad's like, 'Hurry up! You gotta go get his autograph.'"
"I'm terrified, but I run after him. I was this little chubby 13-year-old girl from the suburbs of Orange County. I was in love with him."
Gwen Stefani inducts Police Rock and Roll Hall of Fame inductions 2003
She elaborated during her speech about how Sting interacted with her when she asked for his autograph - or rather how he didn't interact with her.
"He wasn't even looking at me! He was totally grumpy. He didn't want to sign my poster, but he didn't blow me off too bad."
Stefani then held up the photo evidence of her asking for his signature, and it was clear he didn't look too impressed.
A year later, Stefani shared the image again on her Twitter account alongside the caption: "Chunky me 1983. getting @officialsting autograph backstage."
No Doubt - Live at Superbowl XXXVII Message In A Bottle
That same year, performing with her band No Doubt at the Super Bowl halftime show, Stefani got to perform alongside her teenage idol.
She would get to sing The Police's 'Message In A Bottle' alongside the music icon after Shania Twain had already performed.
In a 2005 interview with Marie Claire, Stefani admitted their meeting was eye-opening in more ways than one, as she remembered Sting was "really mean. But I still loved him."
Luckily, Sting got to rectify the encounter years later, and she said during the interview that she told Sting what happened.
"When I met Sting years later, I told him that story, and he was like, 'Oh man, I was such a dick back then,'" she continued. "But he's such a great guy."