Kenny Rogers posthumous album features lost Dolly Parton duet and 'Wonderful Tonight' cover
12 April 2023, 14:58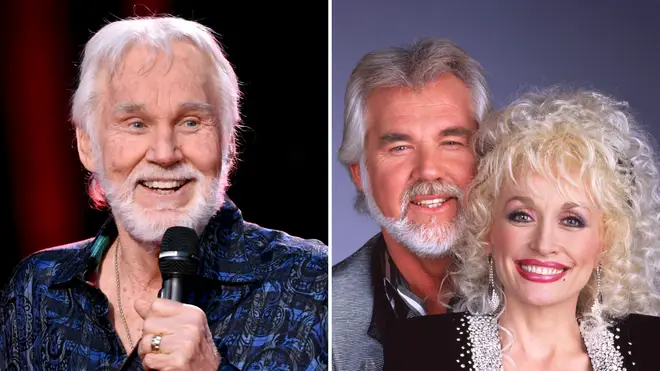 Kenny Rogers' widow has put together a brand new album of unreleased songs by her late husband.
Specially curated by Kenny Rogers' wife Wanda, the new album Life is Like a Song will feature original songs and cover versions.
It features eight previously-unreleased recordings and two rarities, including duets with Dolly Parton, Jamie O'Neal and Kim Keyes.
The album will be released on June 2, and will be the first new non-Christmas studio album by Kenny Rogers in 10 years, and the only non-compilation and non-reissued album to be released on vinyl since 1991.
It will include covers of Eric Clapton's 'Wonderful Tonight', Lionel Richie's 'Goodbye' and the Etta James classic 'At Last'.
His long-sought-after duet with Dolly Parton, 'Tell Me That You Love Me', will also feature.
Kenny Rogers - Goodbye (Lyric Video)
"I think the record is fabulous, and it is going to make Kenny so proud," said Wanda Rogers. "These songs are such a beautiful reminder of his love 'for the feelings a song can make' for a person.
"He would often say that he wanted his songs to be 'what every man wants to say, and every woman wants to hear.' I think there are a lot of those moments on this album. This is a very special record to me and our family because it really tells the story of our life together, and I feel his fans will also relate to it in a big way because it walks the listener through the seasons of life that we all experience in one way or another.
"There is joy, there is love, there is family, there is uncertainty, there is pain, there is faith… it's emotional and real. This is the kind of music Kenny loved to make."
Kenny Rogers passed away on March 20, 2020, at the age of 81.
The tracklist is:
Life Is Like a Song Track List (Digital Deluxe)
1. Love Is A Drug
2. I Wish It Would Rain
3. Am I Too Late (with Kim Keyes)
4. Tell Me That You Love Me (with Dolly Parton)
5. Straight Into Love (with Jamie O'Neal)
6. Wonderful Tonight
7. Catchin' Grasshoppers
8. That's Love To Me
9. I Will Wait For You
10. Goodbye
11. Say Hello To Heaven (Deluxe)
12. At Last (Deluxe)