It's Been a Long, Long Time: Captain America's Avengers Endgame song explained
29 April 2019, 15:52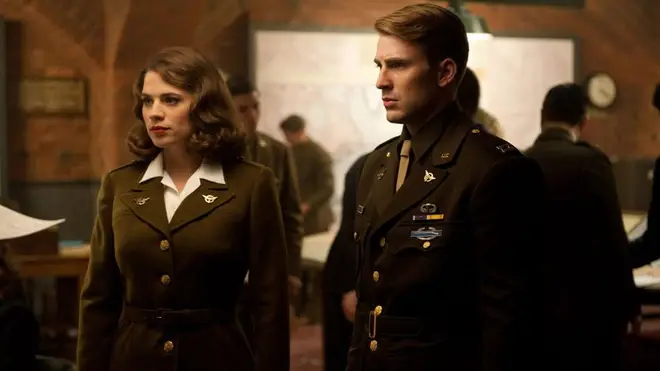 Who would have thought a song from the 1940s would have provided such a powerful moment in a Marvel Cinematic Universe movie?
Warning: This article contains spoilers for Marvel's Avengers Endgame.
One of the most emotional scenes in Avengers Endgame occurred in its final moments: a time-travelling Captain America decides to stay in the past, and live out his days with his long-lost love Peggy.
It's Been A Long, Long Time - Ending Song (Avengers: Endgame Soundtrack)
The blockbuster movie's final scene showed Steve and Peggy finally getting the dance he had long craved in their own home, after he and his fellow Avengers defeated villain Thanos and his army.
But what was the heartwarming song that played as the couple danced away? Here are all the interesting facts:
Who sang 'It's Been a Long, Long Time'?

Kitty Kallen. Picture: Getty

The song was written by Jule Styne and Sammy Cahn, and it was a hit at the end of World War II.

The lyrics are written from the perspective of someone welcoming home their spouse or lover at the end of the war.

The recording by Harry James with vocals by Kitty Kallen reached number one in the US in November 1945.

Harry James and his band. Picture: Getty

A version by Bing Crosby with the Les Paul trio replaced James's version at number one, before Harry James returned to the top, so it was a big deal at the time.

Harry James was an American trumpeter and band leader, and was active until his death in 1983.

Singer Kitty Kallen was an American artist, who performed from the 1930s to the 1960s, and is best known for her 1954 hit 'Little Things Mean a Lot'.

When is it used in the Marvel Cinematic Universe?

Captain America: The Winter Soldier - Clip: Steve Visits Peggy (1080p HD)

The Harry James and Kitty Kallen version has been used on various occasions in the Marvel Cinematic Universe, as a tragic piece of music for Steve Rogers/Captain America (Chris Evans) and his love interest Peggy Carter (Hayley Atwell).

It was first used in Captain America: The Winter Soldier, when Nick Fury (Samuel L Jackson) hides in Steve's apartment after an assassination attempt by HYDRA agents.

It is later used at the end of Avengers: Endgame, when Steve travels back in time and lives out his life with Peggy. The pair share a slow dance to the song, referencing the dance Rogers promised her soon before he was lost in ice for 70 years.

The song's title is also somewhat similar to a line uttered by an aged Peggy in The Winter Soldier, where she tells Steve: "It's been so long. So long. Steve replies: "Well, I couldn't leave my best girl. Not when she owes me a dance."

It's Been a Long, Long Time lyrics:

Never thought that you would be
standing here so close to me
there's so much I feel that I should say
but words can wait until some other day

Kiss me once, then kiss me twice
Then kiss me once again
It's been a long, long time
Haven't felt like this, my dear

Since I can't remember when
It's been a long, long time
You'll never know how many dreams
I've dreamed about you

Or just how empty they all seemed without you
So kiss me once, then kiss me twice
Then kiss me once again
It's been a long, long time

Ah, kiss me once, then kiss me twice
Then kiss me once again
It's been a long time
Haven't felt like this my dear

Since I can't remember when
It's been a long, long time
You'll never know how many dreams
I dreamed about you

Or just how empty they all seemed without you
So kiss me once then kiss me twice
Then kiss me once again
It's been a long, long time