Great British Bake Off's Terry writes emotional open letter about his wife's death
31 October 2018, 17:51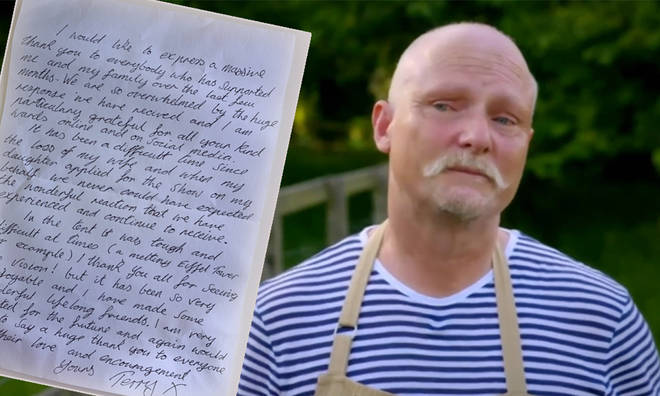 Terry, the secret star of this year's Great British Bake Off, has hand-written an open letter saying thank you for all the support after the death of his wife.
As if we needed another reason to fall in love with Great British Bake Off's Terry, but here we are, teary eyed at the emotional letter he has posted about the passing of his wife.
Terry revealed that his wife Joanna passed away from cancer last year at the age of 52. As he left the Bake Off he said "There wasn't anything to fill that void for a long time so it did give me a focus. I've met some lovely people, I'm sure we'll keep in touch for a long time. It's been a big help."
Terry – who doesn't have social media – gave a hand-written letter to the Great British Bake Off team who shared it on their twitter page:
On the day of the #GBBOFinal, it's time to share a letter we've recently received from lovely Terry. He's not on social media, but wanted to say thanks for all your kindness and encouragement... pic.twitter.com/UXdQbP6d1I

— British Bake Off (@BritishBakeOff) October 30, 2018
In the letter Terry wrote "I would like to express a massive thank you to everybody who has supported me and my family over the last few months."
"It has been a difficult time since the loss of my wife and when my daughter applied for the show on my behalf we never could have expected the wonderful reaction that we have experienced and continue to receive."
He signed off with "I am very excited for the future and again would like to say a huge thank you to everyone for their love and encouragement. Yours, Terry."