David Jason facts: Only Fools star's age, wife, children, height and more facts
20 December 2018, 20:35 | Updated: 11 March 2019, 16:27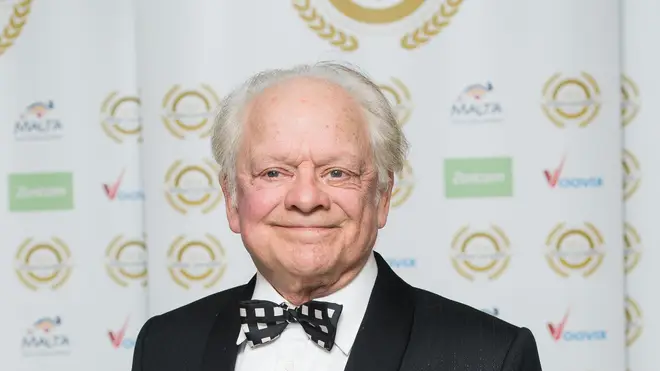 Sir David Jason is one of the UK's true national treasures.
Thanks to his amazing acting career including Only Fools and Horses, Open All Hours, The Darling Buds of May, A Touch of Frost, Danger Mouse, The BFG, Count Duckula and beyond, he's a true TV icon.
Now he's back for a new series of Still Open All Hours, and here's all the important facts about the legendary actor:
David Jason age: How old is he?

Sir David Jason was born David John White on February 2, 1940. He celebrated his 78th birthday in 2018.

His father, Arthur R White, was a porter at Billingsgate Fish Market, and his Welsh mother, Olwen Jones, was a charwoman.

In 1984, he said David Jason was taken from his love for Jason and the Argonauts, and the stage name 'David White' was already taken.

Who is David Jason's brother?

David Jason and Arthur White. Picture: Getty

David had a twin brother, but he sadly died during childbirth. It is an urban myth that he chose the stage name Jason as a tribute to his dead twin, but he has denied this.

His older brother is the actor Arthur White, born in 1933. They appeared together in the crime drama A Touch of Frost, with Arthur playing police archivist Ernie Trigg.

David Jason wife and daughter: How big is his family?

David Jason with daughter Sophie May and wife Gill in 2014. Picture: Getty

David Jason lived with his long-term girlfriend, Welsh actress Myfanwy Talog, for 18 and helped her through breast cancer treatment, until she died in 1995.

In 2001, he became a father for the first time at the age of 61, after his girlfriend, 41-year-old Gill Hinchcliffe, gave birth to a baby girl.

Sophie Mae Jason is now 17 years old. Jason and Hinchcliffe married in 2005.

David Jason height: How tall is he?

David Jason has a height of 5ft 4 ½ (163.8 cm).