Oscars 2023: Hugh Grant has very awkward and grumpy red carpet interview - video
13 March 2023, 13:57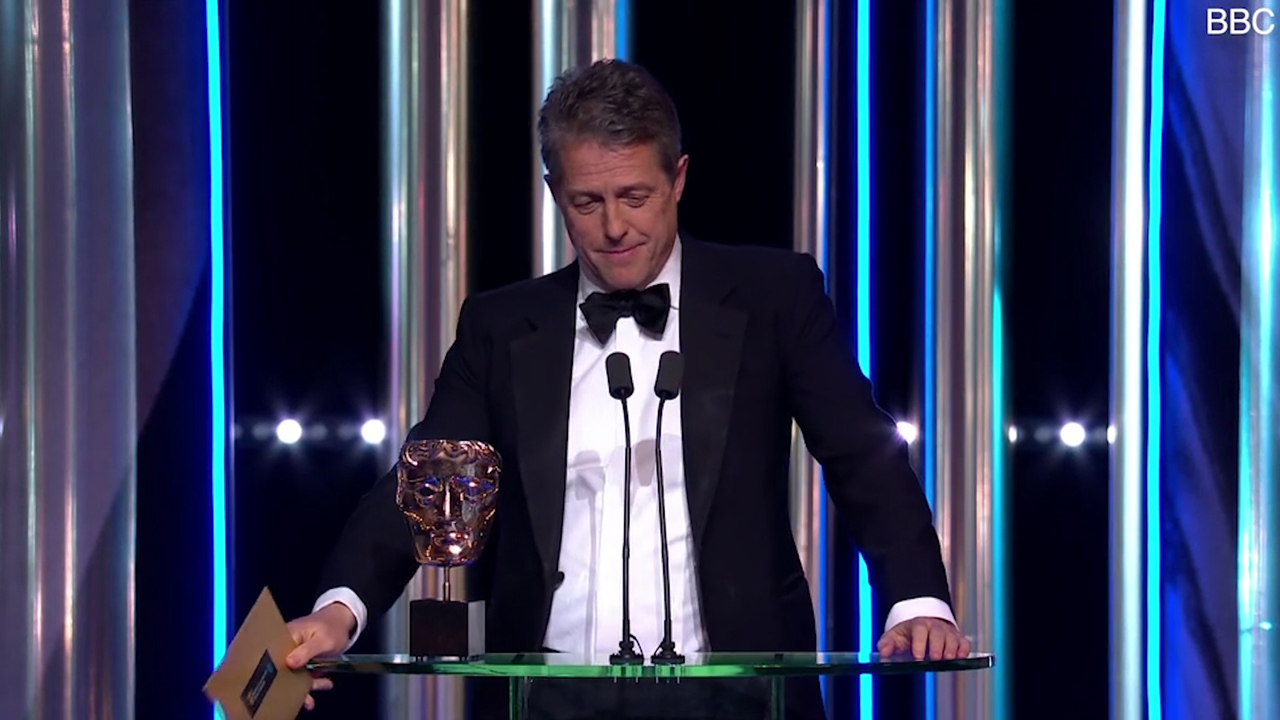 Hugh Grant congratulates Renée Zellweger at the Baftas with Bridget Jones' Diary line
Hugh Grant gets the Oscar for biggest grump with an interview that immediately goes viral.
Hugh Grant has been to many awards ceremonies over the years and had been on more red carpets than most, answering questions from journalists and presenters.
But on the so-called champagne carpet at last night's Academy Awards, it seemed that the actor had maybe had his fill.
Being interviewed by model-turned-presenter Ashely Graham before the Oscars ceremony, Grant seemed uncharacteristically grumpy.
Things took a turn for the awkward early on, when there seemed to be a bit of a misunderstanding about Grant's answer to Ashley's first question.
Asked about his favourite thing about coming to the Oscars, Grant mumbled and bumbled through his answer, saying that "the whole of humanity is here... it's vanity fair".
Hugh Grant's 'rude' Oscars interview goes viral
Grant was likely making a reference to William Makepeace Thackeray's mid-19th century novel Vanity Fair, which itself borrowed its title from the place in John Bunyan's allegorical Pilgrim's Progress – a city built by the demon Beelzebub to cater to mankind's every desire.
Ashley either mistook Grant's comment for a nod to the showbiz magazine and its notorious after-show Oscars party, or was having a bit of fun with Hugh herself when she replied: "Oh, it's all about Vanity Fair, yes that's where we let loose and have a little bit of fun."
Hugh looked a little blank-faced after that response, and his answers to Ashley's follow-up questions seemed increasingly irritable.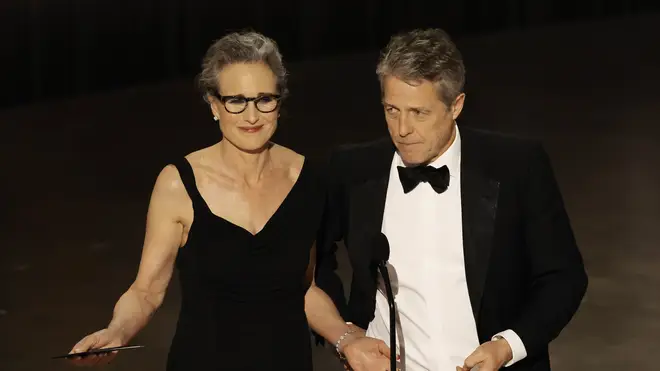 Who was he looking forward to see winning? "No-one in particular."
What was he wearing? "Just my suit."
What was it like to be in hit Netflix movie Glass Onion? "Well, I'm barely in it. I'm in it for about three seconds."
Ashley wrapped things up soon after, and Hugh was seen to visibly give an eye-roll and wander off.
Hugh Grant gets funny Oscars audience reaction with crude joke about his looks | Oscars 2023
Okay, there's definitely been worse red carpet interviews, but in a year without serious drama (no slaps, no-one accidentally giving Best Picture to the wrong film), the interaction became the standout viral moment of the 2023 ceremony.
Hugh Grant's name continued to trend on social media into the following afternoon, with a fair mix of those taking issue with his apparent rudeness, and those congratulating him for keeping things real.
Grant seemed in a slightly more giving mood during the actual ceremony, when he and his Four Weddings and a Funeral co-star Andie MacDowell presented the award for Best Production Design.
On stage, Hugh extolled the virtues of using a good moisturiser before gesturing at Andie and saying "still stunning", before pointing to himself with a dismissive "basically a scrotum".