Oscars 2023: John Travolta holds back tears paying tribute to Olivia Newton-John
13 March 2023, 10:11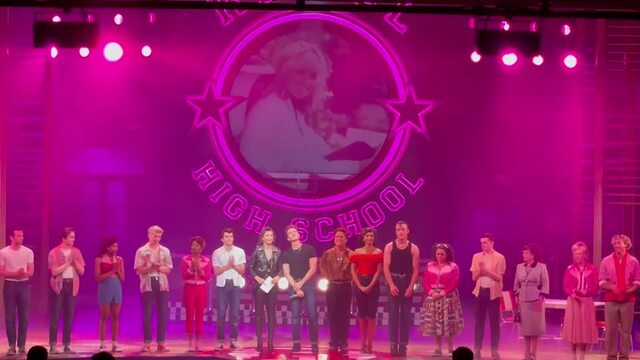 Cast of Grease The Musical dedicates entire show run to Olivia Newton-John
"Dear friends who we will always remain hopelessly devoted to."
John Travolta gave an emotional introduction to the In Memoriam segment at the 2023 Academy Awards last night, as he referenced his former Grease co-star Olivia Newton-John.
Newton-John died last August at the age of 73 after a long-documented battle with breast cancer.
"In this industry we have a rare luxury of getting to do what we love for a living and sometimes getting to do it with people that we come to love," Travolta said from the stage at the Dolby Theatre at Ovation Hollywood yesterday evening (March 12).
"It's only fitting that we celebrate those we lost. They've touched our hearts, made us smile and became dear friends who we will always remain hopelessly devoted to."
Newton-John performed the Oscar-nominated 'Hopelessly Devoted to You' in 1978's Grease, scoring a UK number 2 and US number 3 hit single with her recording.
John Travolta CRIES Honoring Olivia Newton-John At 2023 Oscars
After Travolta's introduction, singer-actor Lenny Kravitz gave a rendition of his 2004 track 'Calling All Angels', while talent from in front and behind the screen were remembered with a touching display.
Among those whose life and work was celebrated were actors Robbie Coltrane, Ray Liotta, Raquel Welch and Angela Lansbury.
Also remembered were the likes of composers Angelo Badalamenti and Burt Bacharach and directors Wolfgang Petersen, Bob Rafelson and Jean-Luc Godard.
Last year, Travolta led the tributes to his friend, duet partner and co-star Newton-John after her sad passing.
"My dearest Olivia, you made all of our lives so much better. Your impact was incredible. I love you so much," he said.
"We will see you down the road and we will all be together again. Yours from the first moment I saw you and forever! Your Danny, your John!"