I'm A Celebrity 2023 lineup: Meet this year's celebrities
20 November 2023, 20:09 | Updated: 22 November 2023, 14:51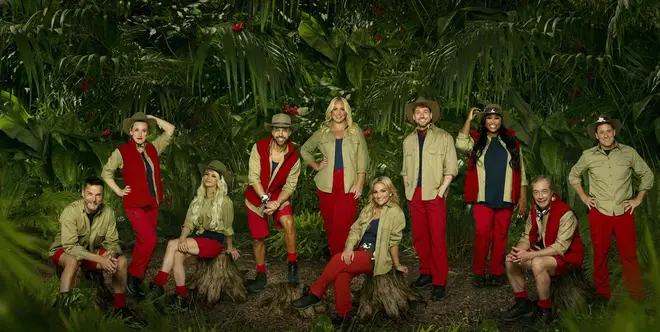 I'm A Celebrity... Get Me Out of Here!'s 2023 cast has allegedly been confirmed.
You know it's nearly Christmas when Ant & Dec return with another series of I'm A Celebrity, and the show returned on Sunday, November 19 on ITV1 and ITVX.
A new batch of campmates will participate in Bushtucker Trials to become King or Queen of the Jungle.
Here is your official lineup:
Marvin Humes

Marvin Humes I'm a Celebrity.

Picture: ITV

Marvin Humes is a singer, DJ, and TV presenter. Best known as a member of the chart-topping boyband JLS, he later pursued a successful career in broadcasting.

With charisma and talent, Humes has become a prominent figure in the entertainment industry, hosting various television shows, such as The Hit List with wife Rochelle Humes.

"When I first told Rochelle [his wife, the singer and presenter], she thought I was doing a prank on her. She thought I was nuts and she still can't believe I'm doing it! This is the most daring thing I have ever done and I have never challenged myself this way before. It's one million percent harder than performing on stage and I woke up with knots in my stomach this morning thinking about it. But this programme has been on my bucket list for years. It's the first time I've been asked to do it, so I jumped at the opportunity."

Fred Sirieix

Fred Sirieux I'm a Celebrity.

Picture: ITV

Fred Sirieix is a French-born maître d'hôtel, best known for his role on the TV show First Dates, and for teaming up with Gordon Ramsay and Gino D'acampo.

Renowned for his charm and hospitality expertise, Sirieix has become a beloved figure in the culinary and TV world, sharing his passion for hospitality and love for good food.

"I thought, 'OK this is a challenge' and I knew I wanted to do it. It's a challenge to be away from my friends, family, comfort, only drinking water, no coffee, no wine, no mustard on my steak and – in fact – no steak! I am seeing this as a wellness retreat. It's an opportunity to get closer to myself, inside my head, and to see life through a different lens and in a place I feel uncomfortable."

Nigel Farage

Nigel Farage I'm a Celebrity.

Picture: ITV

Nigel Farage is a politician and prominent Eurosceptic. As the former leader of the UK Independence Party (UKIP), he played a key role in advocating for the United Kingdom's withdrawal from the European Union.

A polarizing figure, Farage has been influential in shaping British politics.

"I want to test myself. Business, politics, media... I've done so many different jobs and generally I have been reasonably successful. But I have never been tested in quite this way. It's such a mental test and maybe I will discover who I really am."

Danielle Harold

Danielle Harold I'm a Celebrity.

Picture: ITV

Danielle Harold is an actress best known for her role as Lola Pearce on EastEnders.

With a compelling on-screen presence, Danielle has earned acclaim for her performances and has become a recognizable figure in the world of British TV and drama.

"It's definitely going to be nice to be myself and just have fun. The parts I have been playing have involved heavy stuff and to just be me is exciting. I am single and no 'I am not looking for love'! It's been a crazy, crazy year and so why not top it off with the craziest thing ever by doing this?! It's definitely a shock to the system, and I am both excited and nervous. This is so much tougher than anything or any role I have ever done before as it is all so new."

Grace Dent

Grace Dent I'm a Celebrity.

Picture: ITV

Grace Dent is a journalist, broadcaster, and author. Renowned for her witty and insightful commentary on food and popular culture, Dent has contributed to various publications and appeared on television, including MasterChef.

Her engaging writing style and cultural observations have made her a respected voice in the media landscape.

"I have been through a really difficult time over the last four or five years. My dad had dementia, I cared for him and I lost him. Mum had cancer and I lost her. I think that this has made me very strong and resilient. This is going to be a big challenge and, now I am older, life is for living and it's one of the reasons why I said yes."

Nick Pickard

Nick Pickard I'm a Celebrity.

Picture: ITV

Nick Pickard is an actor best known for his longstanding role as Tony Hutchinson on the soap opera Hollyoaks.

With a career spanning decades, Pickard has become a fixture on British TV, earning recognition for his contributions to the popular long-running series.

"This is a once in a lifetime opportunity and as soon as I was approached, I said 'yes'. I am not quitting Hollyoaks to take part. My bosses have been really supportive of me doing it. Now it is getting near to going into camp, I am so excited. I am obviously not looking forward to eating kangaroo balls but at the same time, I am looking forward to the trials – that's the fun part of doing this show. I love the ones where you climb up or jump for a star. And I like ones getting submerged in water. I can't wait now! This is so out of my comfort zone and it's the best show you can do."

Sam Thompson

Sam Thompson I'm a Celebrity.

Picture: ITV

Sam Thompson is a reality TV star, rising to prominence on the show Made in Chelsea.

Known for his humorous personality, Thompson has become a fan favourite and often posts about his life with girlfriend Zara McDemott on social media.

"I am so excited about taking part in I'm A Celebrity, it still feels like a dream. I feel like a competition-winner taking part. It was an absolute resounding 'yes' when I got approached. In fact, they didn't even need to ask! I am a huge fan of the show. Ant and Dec are my idols too, and it's going to be really surreal meeting them."

Jamie Lynn Spears

Jamie Lynn Spears I'm a Celebrity.

Picture: ITV

Jamie Lynn Spears is an American actress and singer. She gained fame for her role in the Nickelodeon series Zoey 101.

Younger sister of pop icon Britney Spears, Jamie Lynn has navigated the entertainment industry, showcasing her talents and evolving into a respected artist and performer.

"There is literally every misconception you can have on a person about me so I don't take any of it seriously. But I do think going on I'm A Celebrity will be a

nice way for people to see the real me. This is an opportunity to be myself and do something really cool and have some awesome experiences in the meantime."

Josie Gibson

Josie Gibson I'm a Celebrity.

Picture: ITV

Josie Gibson is a TV personality and reality star. She gained fame as the winner of the 2010 edition of Big Brother.

Known for her bubbly personality, Josie has since become a familiar face on TV, appearing on various shows and engaging audiences with her vibrant energy.

"I am most looking forward to being at one with nature. And I hope I learn new things about myself. I hope I can push myself more than I think I can. Eating trials? I have got to try and close my eyes and not think about what it is I am eating. Heights? I don't like heights either. To be fair, I am not liking a lot of things that the jungle throws at you but I want to give it all a go."

Nella Rose

Nella Rose I'm a Celebrity.

Picture: ITV

26-year-old YouTuber Nella Rose is said to be heading to the jungle.

She is perhaps best known for co-hosting Catfish UK on MTV.

"I am terrified but I'm trying to think of the bigger picture. In this life, you have to face up to your fears. Yes, I might scream the whole time, but I am going to think about feeding human beings and I am going to try my best."

Frankie Dettori (late arrival)

Frankie Dettori. Picture: Getty

Frankie Dettori is a legendary Italian-born horse racing jockey.

Renowned for his charismatic riding style and numerous victories, Dettori is a household name in the racing world. He gained widespread fame for riding all seven winners on British Champions' Day at Ascot in 1996, a historic achievement.

Frankie is expected to arrive as a late campmate a few episodes in.

Tony Bellew (late arrival)

Tony Bellew is a retired British professional boxer and actor. Born on November 30, 1982, in Liverpool, England, he held titles in multiple weight classes.

Known for his gritty fighting style, Bellew achieved widespread acclaim and respect in the boxing world before transitioning to a career in acting after his retirement.

Tony is expected to arrive as a late campmate a few episodes in.