Lady Gaga responds to Bradley Cooper 'romance' rumours after Oscars performance
28 February 2019, 10:18
Lady Gaga and Bradley Cooper amazed viewers with their passionate Oscars performance at the weekend.
In fact, it was so passionate that many fans have speculated that the A Star is Born duo may be more than just colleagues.
However, Lady Gaga has now spoken out against the rumours, insisting it was purely for the emotion of the performance. Because, you know, they're actors.
Appearing on Jimmy Kimmel Live on Wednesday (February 27), the singer - who also won an Oscar for the film's lead song 'Shallow' - rolled her eyes and said: "First of all, social media quite frankly is the toilet of the internet and what it has done to pop culture is abysmal.
"And people saw love, and guess what, that's what we wanted you to see. This is a love song, the movie is a love story."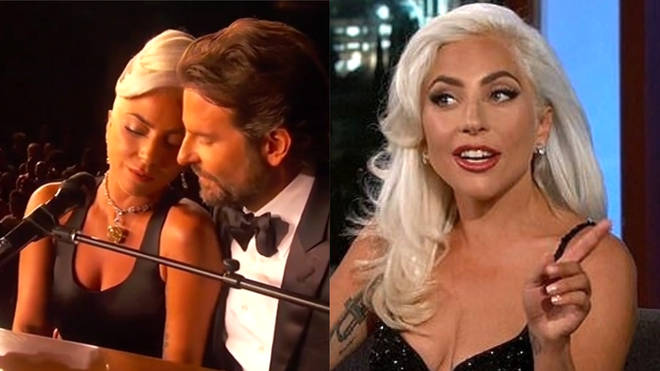 She continued: "From a performance perspective it was so important to both of us that we were connected the entire time. I mean, look, I've had my arm around Tony Bennett for three years touring the world. When you're singing love songs, that's what you want people to feel."
When Kimmel jokingly asked her if she was having an affair with 92-year-old singer Bennett, Gaga held up her Oscar and replied: "No, I'm an artist and I guess we did a good job and, told ya."
Gaga has become the first person ever to win an Oscar, Grammy, BAFTA and Golden Globe in a single year.
Watch the full interview below: