Does Julie Andrews have a cameo in Mary Poppins Returns?
3 December 2018, 12:07
Emily Blunt has explained why Julie Andrews will sadly not appear in the long-awaited Disney sequel.
While we will be treated to a return from the legendary Dick Van Dyke, the original Mary Poppins decided to turn down the chance for a cameo.
Speaking to Variety, Blunt said: "She [Andrews] was very hands-off with the whole thing.
"There was discussion about, you know, that maybe she would come and do a bit in the movie and she was so generous actually."
Blunt explained how Andrews didn't want to take anything away from her version of the character by appearing.
"She said to Rob [Marshall, the director], 'Do you know what this is? This is Emily's version of her and I don't want it to be that she's playing Mary Poppins the whole way through, but then I come in and there's like 'Oh, but there's the real Mary Poppins' you know?'"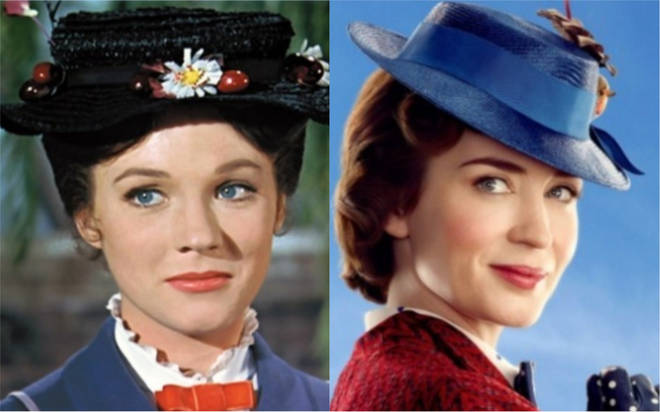 However, producer Marc Platt has revealed that Andrews was never supposed to be appear.
"She wasn't supposed to be in it at all," Platt said. "But she's a friend of Rob's and a friend of ours and a big fan of Emily Blunt and has been lovely since day one about how this is Emily's turn and how happy she is for her. And it's Emily's turn.
"It's a different story and a different time. There will only be one Julie Andrews and after people see this film they'll be able to say with equal joy that there's only one Emily Blunt."
Mary Poppins Returns will be out in time for Christmas, and will be released on December 21, 2018 in the UK. It will come out on December 19 in the US.
The film will be set 25 years after the first movie in 1930s London. Jane and Michael Banks are now grown-up, and Michael still lives in the house on Cherry Tree Lane.
He lives there with his three children: Annabel, John, and Georgie, and the housekeeper named Ellen.After Michael suffers a personal loss, Mary Poppins returns to the Banks family with her friend, street lamplighter Jack, and eccentric cousin Topsy.