Matt LeBlanc and Courteney Cox break silence and pay emotional tributes to Friends co-star Matthew Perry
14 November 2023, 20:42
Matt LeBlanc, who played Joey Tribbiani in the popular sitcom Friends, has shared a heartfelt message to his former co-star and friend Matthew Perry, who died on 28 October at the age of 52.
Matt LeBlanc posted a series of photos on his Instagram account, showing him and Matthew Perry in some of their most memorable scenes as Joey Tribbiani and Chandler Bing, the inseparable roommates and best friends on the show.
He wrote: "Matthew. It is with a heavy heart I say goodbye.
"The times we had together are honestly among the favourite times of my life. It was an honour to share the stage with you and to call you my friend.
"I will always smile when I think of you and I'll never forget you. Never. Spread your wings and fly brother you're finally free.
"Much love. And I guess you're keeping the 20 bucks you owe me."
Meanwhile, Courteney Cox has also shared her own tribute to Perry.
The actress, who played Monica Geller on the hit sitcom, posted a heartfelt message on Instagram, along with a clip from one of their most memorable scenes.
"I am so grateful for every moment I had with you Matty and I miss you every day," Cox wrote. "When you work with someone as closely as I did with Matthew, there are thousands of moments I wish I could share. For now here's one of my favourites."
The scene she chose was from the season four finale, when Monica and Chandler hooked up in London after Ross's wedding. Cox revealed that Perry had whispered a funny line for her to say right before they filmed the scene, which made her laugh out loud.
"He often did things like that. He was funny and he was kind," she added.
Cox and Perry portrayed one of the most beloved TV couples of all time, as their characters went from friends to lovers to spouses over the course of the show's 10 seasons. Even after the show ended in 2004, the two remained close friends and often reunited, much to the delight of their fans.
LeBlanc and Cox were among the five Friends cast members who attended Perry's funeral service at the Forest Lawn cemetery on 3 November, according to US reports.
The others were David Schwimmer, Lisa Kudrow and Jennifer Aniston, who played Ross Geller, Phoebe Buffay and Rachel Green respectively on the show.
In a joint statement to People magazine, they said they were "utterly devastated" by Perry's death and described their relationship as "more than just cast mates". "We are a family," they said.
Perry, who was born in Massachusetts and raised in Canada, rose to fame as the sarcastic and witty Chandler Bing on Friends, which ran for 10 seasons from 1994 to 2004.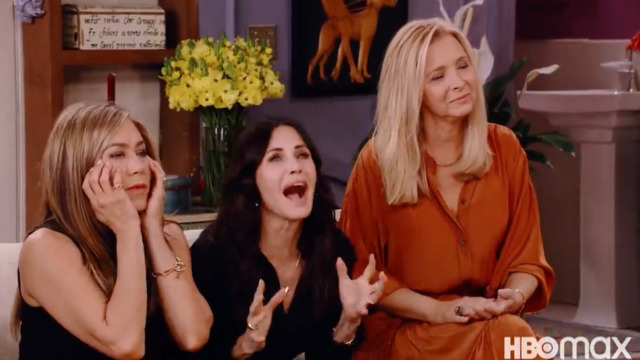 HBO release trailer for Friends: The Reunion
He also starred in films such as The Whole Nine Yards, 17 Again and Fools Rush In, and TV shows such as Studio 60 on the Sunset Strip, The Good Wife and The Odd Couple.
Perry struggled with addiction to drugs and alcohol for years, and revealed in his memoir Friends, Lovers, and the Big Terrible Thing, which was released in 2022, that he had attempted suicide several times. He also opened up about his health issues, including a gastrointestinal perforation in 2018 that required surgery.
The Matthew Perry Foundation was set up in the star's memory after his death, promising to continue his commitment to "helping others struggling with the disease of addiction". The foundation's website states: "Matthew believed that everyone deserves a chance to live a happy and fulfilling life, free from the chains of addiction. He dedicated his time, energy and resources to support various causes and organizations that help people in recovery."
Perry's death was confirmed by the Los Angeles police, who said they had found a "male unconscious in a stand-alone Jacuzzi" at his home on 28 October. The cause of death has not been officially announced, but sources told TMZ that he had suffered a heart attack.
Perry's fans and colleagues have expressed their grief and condolences on social media, remembering him as a talented and generous actor and a kind and funny person.
Some of his Friends co-stars also shared their own tributes, such as Maggie Wheeler, who played Chandler's on-and-off girlfriend Janice Hosenstein, and Hank Azaria, who played David, a love interest of Phoebe.
LeBlanc's tribute to Perry has received over 10 million likes and thousands of comments from fans and celebrities, who have expressed their love and support for him and the Friends family.