Pierce Brosnan shares tender moment with wife Keely after Malibu home incident
26 June 2023, 15:26 | Updated: 10 August 2023, 16:06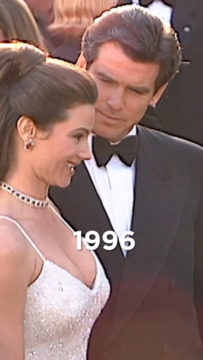 The way Pierce Brosnan looks at his wife Keely...
"Night falls, the moon rises, the firmament divides the primal sea..."
With over 20 years of marriage under their belts, Pierce Brosnan and his wife Keely are our frequent go-to for relationship goals.
They're so adorable together that we don't even slightly begrudge them a public display of affection whenever the mood takes them.
And just days after adversity – a reported trespass at their main home in Malibu – Pierce has shared a beautiful picture of the couple taken some time back, along with an incredibly poetic caption.
What's more, he revealed that the lovely snap was taken by none other than Dominic Cooper, his famous friend and Mamma Mia! co-star.
"Night falls, the moon rises, the firmament divides the primal sea, and stars break from the heavens …home ward bound❤️Photo by Dominic Cooper," read the caption.
Pierce and Keely got together after meeting at a party in Cabo San Lucas a year before he starred in GoldenEye.
They have two children – Dylan and Paris – together and married in 1991 at the 785-year-old Ballintubber Abbey in County Mayo, Ireland.
"I love her vitality, her passion. When Keely looks at me I go weak at the knees," Pierce told The Sun a few years ago about his enduring feelings for his wife.
Earlier this month it emerged that someone had apparently relieved themselves in the garden belonging to Brosnan's Malibu neighbour, before trespassing to use his outdoor shower to clean up.
TMZ reports that he was later arrested and charged for the "burglary" of the water used.
It's believed that Keely was in the house at the time of the incident.
"There was no break-in and the home was not burglarized," Brosnan's rep told Entertainment Weekly.
"The man came onto the Brosnans' property from the beach and used the outdoor shower.
"He never gained access to the house or a laundry room and was escorted off the property by the staff."