Sam Neill facts: Jurassic Park actor's age, wife, children, career and health explained
19 October 2023, 16:44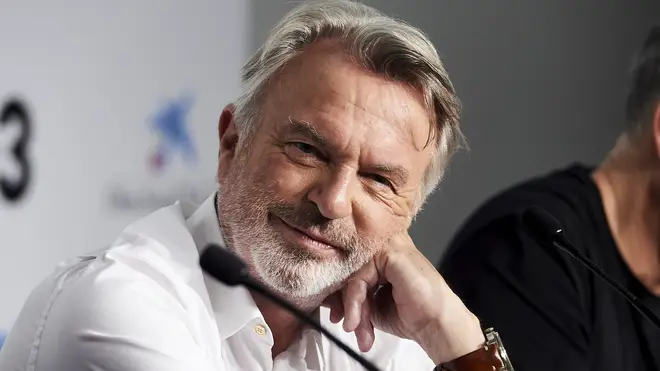 Sam Neill is a New Zealand actor who has been acclaimed for his roles in both dramas and blockbusters.
He has a 53-year career that spans film, TV, and documentaries. Sam is best known for playing Dr Alan Grant in the Jurassic Park franchise, as well as starring in The Piano, The Hunt for Red October, and Peaky Blinders.
Here we will explore his life and career, from his birth in Northern Ireland to his latest projects.
What are Sam Neill's most famous movie and TV roles?

This Bohemian Rhapsody actor was child star in Jurassic Park

Some of the most notable films and TV shows of Sam Neill's 53-year career include Sleeping Dogs (1977), his first major role, My Brilliant Career (1979), a romantic drama, Omen III: The Final Conflict and Possession (both 1981), horror films, Evil Angels - also known as A Cry in the Dark (1988), a true crime story, Dead Calm (1989), a thriller, The Hunt For Red October (1990), a spy film, The Piano (1993) and In the Mouth of Madness (1994), both critically acclaimed.

He is widely recognized as Dr Alan Grant in Jurassic Park (1993) and its sequels Jurassic Park III (2001) and Jurassic World Dominion (2022).

Sam has also starred in many TV series, such as Reilly, Ace of Spies (1983), a historical drama, The Simpsons (1994), Merlin (1998), a fantasy miniseries, The Tudors (2007), a historical drama, Crusoe (2008–2010), an adventure series, Happy Town (2010), a mystery series, Alcatraz (2012), a sci-fi series, Peaky Blinders (2013–2014), a crime drama, and Rick and Morty (2019), an animated sci-fi comedy.

Sam Neill was also almost James Bond in the late 1980s. He was one of the candidates for the role of 007 after Roger Moore retired from the franchise.

He did a screen test for the part, but he did not want the job and was glad he did not get it. He said his audition was "mortifying" and "silly" and that he felt "awkward" doing it.

How old is Sam Neill and where is he from?

Sam Neill in 1981. Picture: Getty

Sam Neill is 76 years old as of 2023.

He was born in Omagh, County Tyrone, Northern Ireland on September 14, 1947.

He moved with his family to New Zealand when he was 7 years old. He grew up in the South Island of New Zealand and attended boarding schools and universities there.

Sam Neill's parents were Priscilla Beatrice Ingham and Dermot Neill. His father was a second-generation New Zealander and an army officer, while his mother was English. His father's family owned a wine merchant business in New Zealand.

He has one brother named Michael Neill, who is his only sibling.

Sam's birth name was Nigel, and he changed his name to Sam when he was at school.

Who is Sam Neill's wife?

Sam Neill and second wife Noriko Watanabe in 2006. Picture: Getty

Sam Neill has been married twice in his life. His first wife was Lisa Harrow, an actress from New Zealand. They got married in 1981, but divorced in 1989.

His second wife was Noriko Watanabe, a Japanese make-up artist. They got married in 1993.

However, Sam Neill separated from Watanabe in 2017, and since 2018 has reportedly been in a relationship with Australian political journalist Laura Tingle.

Sam Neill and partner Laura Tingle in 2021. Picture: Getty

How many kids does Sam Neill have?

Sam Neill melts hearts with video of his duck Charlie flying

Sam Neill has three biological children and one adopted child.

With his first wife Lisa, he became a father to Tim Neill, who is also an actor.

He had a daughter with second wife Noriko: Elena Neill, who is a filmmaker.

He also adopted Noriko's daughter Maiko during their marriage.

What health issues has Sam Neill had?

Sam Neill has been diagnosed with a rare type of blood cancer called angioimmunoblastic T-cell lymphoma. This is a subtype of non-Hodgkin lymphoma that affects the immune system and causes symptoms such as swollen glands, fever, weight loss, rash and fatigue.

He revealed his cancer diagnosis in March 2023, while promoting his memoir, which he wrote during his chemotherapy treatment. He said he first noticed his swollen glands during the publicity for Jurassic World Dominion.

Sam Neill underwent three months of chemotherapy, but the treatment stopped working. His doctors then switched him to a new experimental drug that he has to take every two weeks for the rest of his life.

The drug has helped him achieve remission, which means the cancer is under control but not cured. Sam said he is not "afraid" of dying, but rather annoyed by the idea of leaving behind his family, friends and projects.

He said he is more afraid of retirement than death, as he loves acting and working on his farm and vineyard in New Zealand.

Sam Neill has given several health updates to his fans and the media since his diagnosis. He has assured them that he is doing fine and that he is grateful for their support and concern.

Reassuring his fans, he said in October 2023: "I made a passing remark there that the treatment I'm on, which has me in remission, will inevitably fail one day.

"That's what happens. It's nothing to worry about. I'm in remission and I plan to be in remission for many years to come. I will bore you all to death with lots more work.

"At such a time the drug does fail, we'll try something else. There's all sorts of things that are happening with cancer [treatments] these days. It's a whole new ball game.

"Please stop worrying. I've been getting a lot of messages on social media and from friends. I'm sorry to worry everybody. It's all good. It's all fine. It's a beautiful day. I'm off to work."