Tom Hanks breaks down in tears during Golden Globes 2020 acceptance speech
6 January 2020, 10:42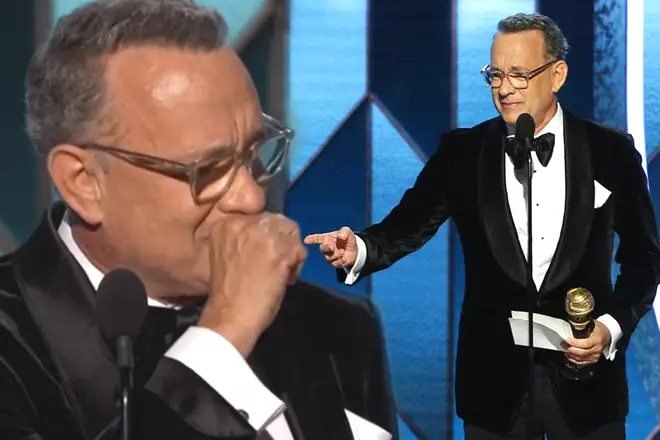 The Golden Globes 2020 took place in Beverly Hills last night (January 5), with the 77th Awards Ceremony hosted by Ricky Gervais – however, the standout moment for many viewers was Tom Hanks' acceptance speech.
The actor, known for films from Toy Story to Cast Away and Forrest Gump, was honoured with the Hollywood Foreign Press Association's Cecil B DeMille Award for his work and impact as an actor, producer and writer.
Sobbing during his speech, Tom left the audience in tears as he made the heartfelt talk from the Golden Globes podium.
The 63-year-old was introduced by his That Thing You Do co-star Charlize Theron, who praised Tom in her monologue.
Charlize said: "He stands for all the qualities we aspire to, both onscreen and off. He gives us enough laughter to weather our storms."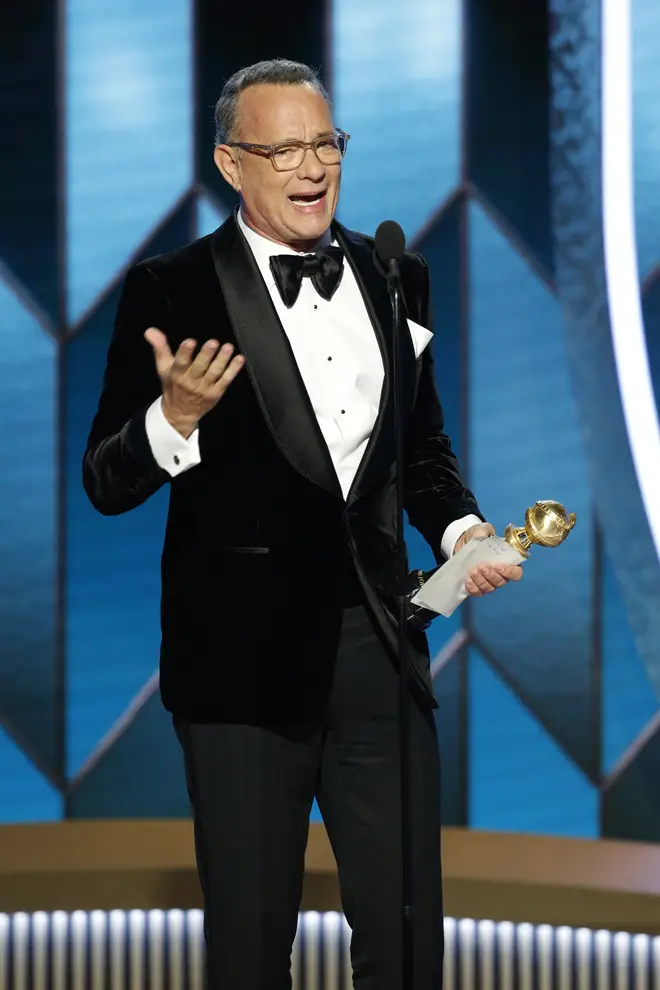 Tom got up on stage and joked: "Most of the people in this room, I would pay to see them get their cars washed.
"But how many people in this room have a clip package that includes The Love Boat?"
Becoming emotional while looking at his family in the front row, Tom choked up and said: "A man is blessed with a family sitting down the front like that. A wife [Rita Wilson] who is fantastic in every way who has taught me what love is.
"Five kids who are braver and stronger and wiser than their old man is... and a loving group of people who have put up with me being away for months and months and months at a time. I can't tell you how much your love means to me."
Tom continued: "I have never not been challenged or flummoxed or lost sleep because of the work of the directors that I've worked with, every single one of them, Steven [Spielberg] and Ron [Howard], Paul [Greengrass], Bob [Zemeckis], Clint [Eastwood] and every one of those guys at some point or another came up to me in the course of a day and said, tomorrow, if you don't do your job really well, we don't have a movie."
Tom finished his speech by shedding a tear while saying: "There is a saying in motion pictures, back when it was shot on film, that you could not move on to the next scene until the gate was good.
"Thank you all here, thank you all for all your inspiration and all of your work and all of the struggle that you guys all go through in order to hit the marks and, I have checked the gate. The gate is good. Thank you."
Elsewhere on the night, various British stars took home prizes, including two awards for Rocketman - a best actor award for Taron Egerton, and a best film song award for Sir Elton John and Bernie Taupin.
British director Sam Mendes received two awards for his World War I epic 1917, Phoebe Waller-Bridge's sitcom Fleabag won two prizes, while Olivia Colman won for playing The Queen in The Crown.