Who was Dick James, the tough music publisher played by Stephen Graham in Rocketman?
11 May 2021, 10:51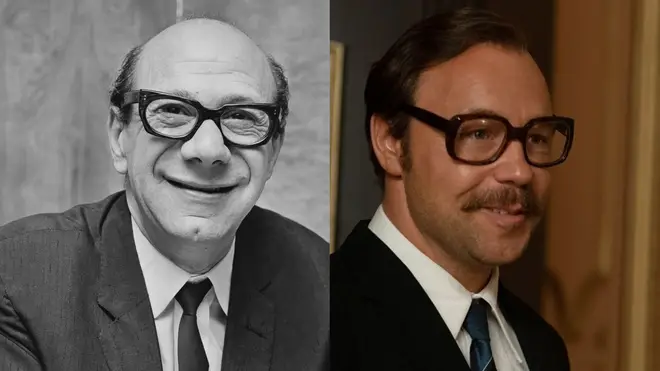 Dick James was one of the most successful music publishers of his era, and he plays a major role in Elton John's biopic Rocketman.
Line of Duty actor Stephen Graham plays Dick James in Rocketman, and is shown giving Elton John and Bernie Taupin their first big break.
But who exactly was Dick James and who else did he work with?
Who was Dick James?

Dick James.

Picture: Getty

Born Leon Isaac Vapnick, Dick James was a British music publisher and former singer.

Alongside his son Stephen, he founded the DJM record label and recording studios.

He also teamed up with Brian Epstein to form the Beatles' publisher Northern Songs.

After a singing career - which included the theme tunes of The Adventures of Robin Hood and The Buccaneers - he entered the music publishing business in the late 1950s.

Robin Hood TV Theme :::: Dick James.

In early 1963, he was contacted by Brian Epstein, who was looking for a publisher for the second Beatles single, 'Please Please Me'.

James called Philip Jones, producer of the TV show Thank Your Lucky Stars, and played the song down the phone to secure the band's first UK TV appearance.

The Beatles later felt that James had betrayed them when he sold Northern Songs in 1969 without offering them a chance to buy control of the company.

James did very well financially from the sale, but the Beatles never again had the rights to their own songs.

In the 1960s, James also managed Billy J Kramer and Gerry and the Pacemakers.

How did he meet Elton John?

Dick James signed Reg Dwight and lyricist Bernie Taupin as unknowns in 1967, after his son Stephen found Dwight using their recording studios without permission.

Stephen also convinced Dwight to adopt a new stage name - Elton John - and oversaw his first contract.

All Elton albums up to 1976 were issued on the DJM record label.

Elton then formed his own Rocket label in 1973, and in 1982, was involved in a court case with James over royalties. In 1985, John sued James over the rights to his earlier material, and won.

When did Dick James die?

Dick James died in London from a heart attack in 1986, aged 65.

Dick James Music was then acquired by PolyGram which was then bought by Universal Music Group.

The Dick James music catalog is currently part of Universal Music Publishing Group.