Who is Finland's 2019 Eurovision entry Darude and Sebastian Rejman?
9 May 2019, 13:01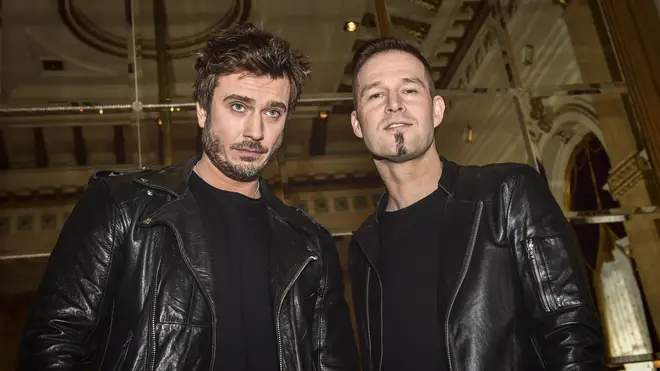 One of the most jaw-dropping entries of this year's Eurovision is Finland's entry DJ Darude - who brought us the smash hit dance record 'Sandstorm' - who will be performing song 'Look Away' with Sebastain Rejman in Tel Aviv.
Who is Finland's 2019 Eurovision entry Darude feat. Sebastian Rejman?
Darude - whose real name is Toni-Ville Henrik Virtanen - made his mark in 1999, bringing the sound of Finnish dance music to the world stage with his hugely popular track 'Sandstorm.'
If you don't know it off the top of your head, you'll certainly recognise it from just it's first few bars - the trance tune has been featured on numerous films, TV adverts and compilations across the world and you can listen to the famous track below.
The song has over two million record sales worldwide and thanks to its use on popular video games and internet memes, ten years after it's release 'Sandstom' has seen a resurgence among a new younger audience.
In 2010 the 1999 hit was certified Gold in the United States with over 500,000 sales and in 2015 YouTube created a special effect for April Fool's Day that enabled any video to have 'Darude - Sandstorm' played over it.
Darude has paired up with Sebastian Rejman, a talented Finnish singer, songwriter and actor - part of successful music group The Giant Leap - who will be performing the lyrics to Finland's Eurovision song.
What is Finland's Eurovision 2019 song called?
Darude and Sebatian Rejman will perform the song 'Look Away' in Tel Aviv on May 14.
Darude and Sebastian put forward three tracks for selection for this year's Eurovision and the final song was chosen by the Finnish public and an international jury panel.
Darude feat. Sebastian Rejman - Look Away - Finland 🇫🇮 - Official Video - Eurovision 2019
What are the odds of Finland winning Eurovision 2019?
Finland's 2019 entry is currently a rather lowly thirtieth favourite to win out of forty-one entries.
The favourite to win Eurovision this year is Duncan Laurence from the Netherlands followed by Sergey Lzarev from Russia.
According to Eurovision World Darude and Sebastain Rejman singing 'Look Away' is in with a a less than 1% chance to win the contest.
Head here for full details of all of the Eurovision Song Contest 2019 odds.
Sadly not so great. Finland came second to last at last year's contest - just beating hosts Portugal who came last at the Lisbon competition.
2018's Finnish entry Saara Aalto and her song 'Monsters' failed to impress the judges.
The country last won the competition in 2006, so perhaps it is due a win in 2019!