Who is Iceland's 2019 Eurovision entry Hatari?
17 May 2019, 09:36 | Updated: 18 May 2019, 21:44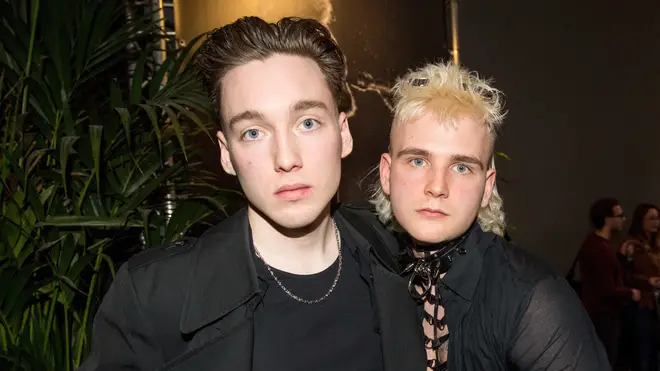 Representing Iceland at this year's 2019 Eurovision Song Contest, Hatari will be singing "Hatrið mun sigra" at the competition in Tel Aviv, Israel.
Who is Iceland's 2019 Eurovision entry Hatari?
The "anti-capitalist bondage art performers" are a break from the norm for Iceland - and let's be honest, Eurovision in general - with all three members due to step out on stage in head-to-toe BDSM outfits in Israel in May.
School friends Klemens Hannigan, Matthías Tryggvi Haraldson, and Einar Stéfansson will be sporting their leather spiked bondage gear to sing for their country in Tel Aviv.
Hatari - which translates to Hater in English - have announced that they are hoping their turn representing Iceland at Eurovision 2019 will bring them "one step nearer to our plan to destroy capitalism."
The gimp-suit-wearing band have claimed their entry into Eurovision is a political statement against Israel and have even challenged Israeli Prime Minister Benjamin Netanyahu to an "Icelandic trouser wrestling match" when they are in Tel Aviv in May. Yes, you read that right.
Certain to liven up Eurovision proceedings, the band's chosen song is sure to be a highlight of the live final.
What is Iceland's Eurovision 2019 song called?
Hatari's song is called 'Hatrið mun sigra' which translates into english as 'Hate Will Prevail.'
Lyrics to the track include: "The hangover is endless/Life is meaningless/The void will get us all" and a rousing chorus of "Europe will crumble/A web of lies will arise from the ashes".
See a video below of the band performing their 2019 Eurovision entry.
A warning: it is exactly what you would expect from three grown men dressed in bondage gear.
Hatari - Hatrið mun sigra - Iceland 🇮🇸 - Official Music Video - Eurovision 2019
What are the odds of Iceland winning Eurovision 2019?
Iceland's Hatari are currently sixth favourite to win Eurovision 2019 in Tel Aviv, Israel, behind Sergey Lzarev from Russia and Duncan Laurence from the Netherlands.
According to Eurovision World Hatari singing 'Hatrið mun sigra' is in with an 5% chance to win the contest.
Head here for full details of all of the Eurovision Song Contest 2019 odds.
Iceland came in 19th place at the semi-final last year and didn't qualify for the final of Eurovision 2018.
Their entry was a power ballad called 'Our Choice' performed by Ari Ólafsson in Lisbon, who was voted out of the contest in the semi-final.