Eurovision 2019: When is Eurovision, who is the UK entry and who will win?
10 May 2019, 10:08 | Updated: 10 May 2019, 10:11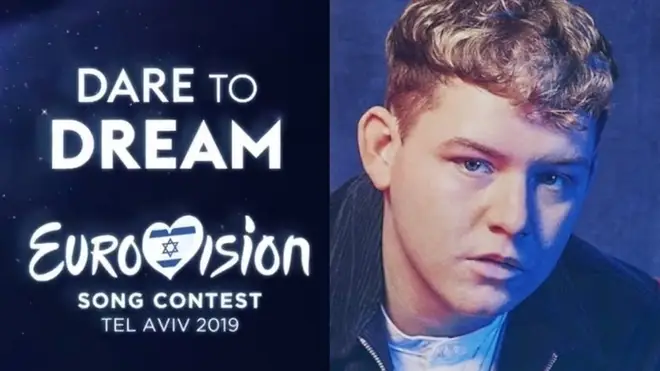 The Eurovision Song Contest is one of the most watched TV programmes of the year, with millions of viewers from across the globe following the musical extravaganza.
With a staggering 8.1 million viewers tuning in to watch Israel's Netta Barzilai take home the trophy at last year's competition in Portugal, thoughts are turning to 2019's Eurovision Song Contest.
So when and where is this year's Eurovision? How do you get tickets and who is this year's UK entry? Read on to find out everything you need to know about Eurovision 2019.
When is Eurovision 2019 on TV?

The first semi-final is held on Tuesday May 14 with the second semi-final taking place two days later on Thursday May 16.

The final of the Eurovision Song Contest will be held on Saturday, May 18 and will be broadcast live on TV in the UK.

Where is the Eurovision Song Contest 2019?

Due to Israel's victory at last year's competition, the 64th Eurovision Song Contest will be held in Tel Aviv at the city's International Conference Centre - expected to be host 9,000 Eurovision fans.

41 countries will battle it out to be crowned this year's winner of the TV show, this year hosted by Israeli supermodel Bar Rafaeli, television host Erez Tal, Assi Azar and Lucy Ayoub.

Who is the UK's 2019 Eurovision Song Contest entry?

Michael Rice sings 'Bigger Than Us' | Eurovision: You Decide - BBC

21-year-old singer Michael Rice, best known for winning TV talent show All Together Now and his apperance on The X Factor, is this year's UK Eurovision entry.

The Hartlepool resident, who owns a waffle and milkshake business, beat five other hopefuls to become the UK's representative on the TV show Eurovision: You Decide on February 8.

The song Michael will be performing is 'Bigger Than Us' a song chosen by the British public to be Eurovision's 2019 entry.

Which countries are competing in Eurovision 2019?

While 41 countries will compete in this year's Eurovision Song Contest, only six countries have so far been confirmed to perform in the final on May 18.

France, the United Kingdom, Italy, Germany and Spain automatically qualify for the final as they are the biggest financial contributors to the European Broadcast Union and Israel is automatically in the final as the reigning champions of last year's Eurovision.

The semi-finals will then decide the full list of 26 countries taking part in the grand final.

Eurovision 2019 odds: Who is tipped to win?

The odds have changed over the last few weeks, but as it stands:

The Netherlands are the early favourites to win with odds of 3-1, according to William Hill. Duncan Laurence will perform the song 'Arcade' to try and win the grand prize.

Duncan Laurence - Arcade - Official Music Video - The Netherlands 🇳🇱 - Eurovision 2019

They are followed by Russia's Sergey Lazarev and his song 'Scream', with odds of 6-1.

Sergey Lazarev - Scream - Russia 🇷🇺 - Official Music Video - Eurovision 2019

Italy's Mahmood and the song 'Soldi' is third favourite with odds 8-1, followed by Sweden's John Lundvik and 'Too Late for Love' with 11-1.

John Lundvik - Too Late For Love - Sweden 🇸🇪 - Official Video - Eurovision 2019

Other tips:

- Azerbaijan: Chingiz - 'Truth' (11-1)

- Switzerland: Luca Hanni - 'She Got Me' (13-1)

- Malta: Michela Pace - 'Chameleon' (15-1)

- Iceland: Hatari - 'Hatrio mun sigra' (17-1)

- Cyprus: Tamta - 'Replay' (29-1)

The UK's chances? 67-1. Believe it or not, that's actually good for us.

Bonus shout-out: Darude of 'Sandstorm' fame is competing for Finland on the song 'Look Away' with odds of 151-1.

Madonna at Eurovision: What will she be singing?

57th GRAMMY Awards - Show. Picture: Getty

Madonna is confirmed to be performing two sings at Eurovision 2019.

The American star is being paid a reported $1 million to perform and will be bringing a 160 person entourage to the show in Tel Aviv, Israel.

Madonna's two songs - a new track and one of her classic hits - and is the most expensive booking in Eurovision history the European Broadcasting Union confirmed to Haaretz.

She has already reportedly "butted heads" with Israeli organisers due to her new song containing "political messages".