Who is Cyprus' 2019 Eurovision entry Tamta?
17 May 2019, 21:05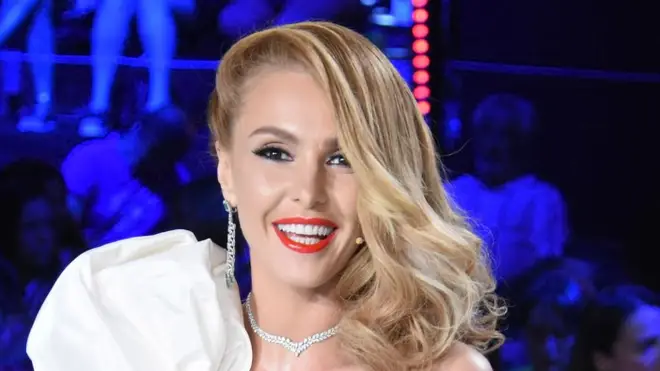 Keen to replicate Cyprus' success at last year's competition, representing the island at this year's 2019 Eurovision Song Contest, Tamta will be singing "Replay" at the competition in Tel Aviv, Israel.
Who is Cyprus' 2019 Eurovision entry Tamta?
38-year-old Tamta - full name full name Tamta Goduadze - is already a star in Cyprus thanks to X Factor.
Finishing as the runner up in 2004's Super Idol Greece, the singer has released four studio albums - including an impressively named Best of Tamta - and came full circle, becoming part of the X Factor professional team.
Tamta became a mentor on X Factor Georgia in 2014 and X Factor Greece in 2016.
2019 isn't the first time the Cypriot star has tried to win Eurovision.
Tamta put forward an entry in 2007, but failed to get enough votes to go through at the Greek national final.
What is Cyprus' Eurovision 2019 song called?
Tamta will be performing Cyprus' song 'Replay' in Tel Aviv on May 14.
The catchy, up-beat track is has previously peaked at number two on the Greek Digital Download chart and Tamta will no be hoping this is the year Cyprus finally take the top spot at Eurovision.
Tamta - Replay - Cyprus 🇨🇾 - Official Music Video - Eurovision 2019
What are the odds of Cyprus winning Eurovision 2019?
Cyprus' Tamta is currently seventh favourite to win Eurovision 2019 in Tel Aviv, Israel, behind Sergey Lzarev from Russia and Duncan Laurence from the Netherlands.
According to Eurovision World Tamta singing 'Replay' is in with a 4% chance to win the contest.
Head here for full details of all of the Eurovision Song Contest 2019 odds.
Very well! Cyprus came an extremely impressive second place behind Israel's Netta Barzilai at last year's Eurovision in Lisbon, Portugal - the highest position they have ever achieved.
Represented by Greek pop star Eleni Foureira singing 'Fuego', it was the first time Cyprus had been in the top ten at Eurovision since 2004.