Who won Eurovision 2018? Meet last year's winner for Israel, Netta Barzilai
18 May 2019, 20:10 | Updated: 18 May 2019, 20:11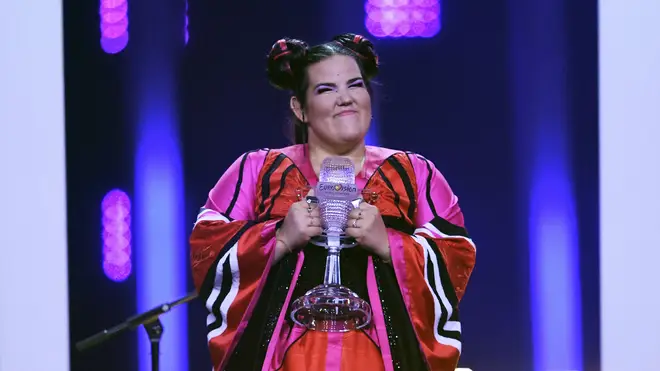 Israeli singer Netta Barzilai won Eurovision 2018 with her song 'Toy' in Lisbon, Portugal.
The 26-year-old won the song contest with an incredible 529 points! Read on for everything you need to know about Netta...
Netta - Toy - Israel - LIVE - Grand Final - Eurovision 2018
Who is Netta Barzilai?

Born in Hod HaSharon, Israel Netta Barzilai is a singer and performer.

Having spent four years of her childhood in Nigeria, where her father was working as an engineer, Netta returned to Israel to attend Hadarim High School in her home town of Hod HaSharon.

After spending a year of military service in the Israeli Navy band, Netta went on to study electronic music at Rimon School of Jazz and Contemporary Music in Ramat Hasharon, Israel.

In September 2017 Netta applied for HaKokhav HaBa - Israel's national selection for the Eurovision Song Contest.

Netta proceeded to the finals with her performance of 'Wannabe' by the Spice Girls and her final song - a mash-up of 'Gangnam Style' by Psy and 'Tik Tok' by Kesha - won her the honour of representing her country at the Eurovision Song Contest 2018.

What song did Netta Barzilai sing at Eurovision 2018?

Netta won Eurovision 2018 with the electronic pop song 'Toy'.

The name of the song - written and composed by Doron Medalie and Stav Beger - was confirmed on February 25, 2018 and when the official music video for 'Toy' was released on March 11 it received more than 20 million views - with two months still to go before the beginning of Eurovision.

Netta - TOY - Israel - Official Music Video - Eurovision 2018

'Toy' went on to win Eurovision 2018 with 529 points and marked Israel's fourth Eurovision win, as the country had previously taken home the trophy in 1978, 1979 and 1998.

Netta Barzilai's final performance of 'Toy' on stage in Portugal has over 34 million views and the official music video of 'Toy' is officially the most watched video on the Eurovision Song Contest's YouTube channel, with an astounding 112 million views and counting!

What has Netta Barzilai done since winning Eurovision 2018?

Netta released her first music video for much-anticipated single 'Bassa Sabada' - Arabic for 'Bummer, that's Awesome' -  on January 31, 209 and it's already garnered over 15 million views.

Speaking about her new song to DW, Bessa said: "In the video there is a man running away from me at the altar.

The Duke Of Cambridge Visits Jordan, Israel And The Occupied Palestinian Territories. Picture: Getty

I was left so many times in my life, being told I am not good enough, not smart enough and all this.

And then I look back at him. And I say: 'Oh no honey, mmh, and I run after my problems. I face them.'"

Fresh off the back of her win in Lisbon, Prince William asked to meet Netta when he visited Tel Aviv in June 2018, with the pair discussed diversity and mental health.

"We talked about the way I changed how people feel here in Israel, and about self-esteem," the singer told the BBC.

"And how positivity and setting a good example for people is really making a difference.

"It was amazing," she continued: "He's a really, really chill guy."