Who is John Lundvik? Sweden's Eurovision 2019 entry who's singing "Too Late For Love"
18 May 2019, 20:51 | Updated: 18 May 2019, 20:56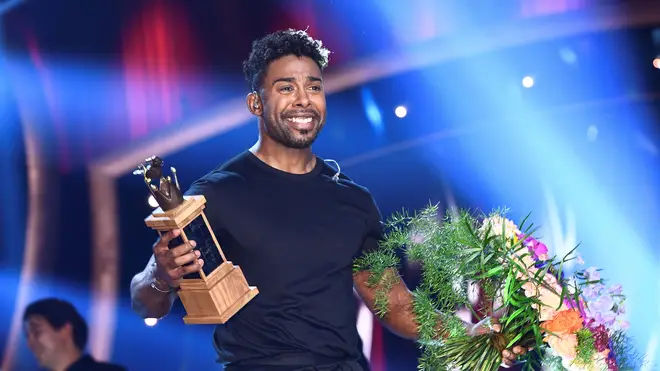 Representing Sweden at this year's 2019 Eurovision Song Contest, John Lundvik will be singing "Too Late For Love" at the competition in Tel Aviv, Israel.
Who is Sweden's 2019 Eurovision entry John Lundvik?
Sweden have won Eurovison six times and with their latest entry, 36-year-old John Lundvik, they'll no doubt be looking to take home the trophy for a seventh time.
Born in London, John was adopted aged six and moved to Sweden with his new family.
Unbelievably it's not the first time John has been at the top of his chosen profession; previously to his singing career he was a champion in 100m sprinting, winning eight gold medals at national events.
His song 'When You Tell the World You're Mine' written to celebrate the Swedish royal wedding in 2010, was his first brush with musical success and he then went on to compose music for the US TV Show Empire.
John has an unusual connection to the UK at this year's Eurovision, having co-written Michael's Rice's song for Great Britain 'Bigger Than Us.'
What is Sweden's Eurovision 2019 song called?
John Lundvik will be singing "Too Late For Love" for Sweden at 2019's Eurovision Song Contest in Tel Aviv, Israel.
John, who won Sweden's national song competition Melodifestivalen, qualifying him for Eurovision 2019, performed "Too Late For Love" in the final of the show - joined on stage with a full gospel choir.
Co-written by John Lundvik, Anderz Wrethov and Andreas "Stone" Johansson, John says of the song: "The title says Too Late For Love, but what I want to say that it's really never too late for love.
"I dare to believe somewhere, in my naive heart, that everything can be solved with love".
John Lundvik - Too Late For Love - Sweden 🇸🇪 - Official Video - Eurovision 2019
What are the odds of Sweden winning Eurovision 2019?
Sweden's John Lundvik is currently fourth favourite to win Eurovision 2019 in Tel Aviv, Israel, behind Luca Hänni from Switzerland, Sergey Lzarev from Russia and Duncan Laurence from the Netherlands.
According to Eurovision World John singing 'Too Late For Love' is in with an 8% chance to win the contest.
Head here for full details of all of the Eurovision Song Contest 2019 odds.
Sweden came a respectable seventh place in 2018's Eurovision Song Contest with the song 'Dance You Off' performed by Benjamin Ingrosso.
Sweden have won Eurovision an amazing six times and have achieved top five positions 24 times in Eurovision history.