Marc Bolan facts: T Rex singer's age, real name, children and tragic death explained
16 February 2022, 15:24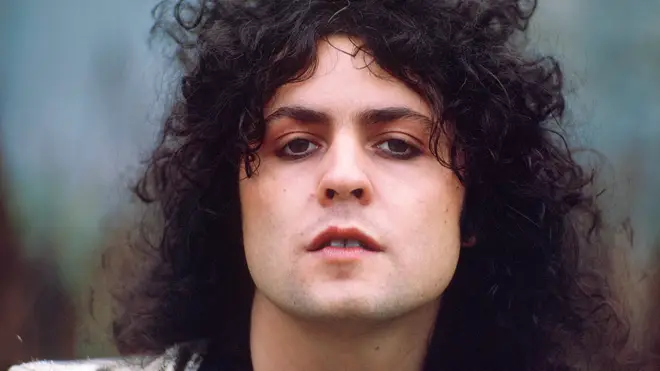 Marc Bolan was one of the biggest music stars of the 1970s, and a hugely influential figure.
Inspiring the likes of David Bowie and Gary Numan, Marc Bolan was the frontman of glam rock group T Rex.
T Rex scored many massive hits in the early 1970s, including '20th Century Boy', 'Get It On' and 'Metal Guru'. They were one of the leading groups of the glam rock movement alongside Slade and Sweet.
However, Marc tragically lost his life before the end of the decade, after being involved in a car crash in London. But his legacy lives on, with tribute documentaries, albums and musicals being made in his honour.
When was Marc Bolan born and where was he from?

Get It On - Marc Bolan & T. Rex

Real name Mark Feld, Marc Bolan was born at Hackney Hospital on September 30, 1947.

He was the son of Phyllis Winifred (née Atkins) and Simeon Feld, a lorry driver. His father was an Ashkenazi Jew of Russian and Polish ancestry, while his mother was English.

As a youth, he fell in love with rock and roll music by Gene Vincent, Eddie Cochran and Chuck Berry.

Aged 9, he was given his first guitar and began a skiffle band with his friends. While at school, he played guitar in Susie and the Hula Hoops, a trio whose singer was a 12-year-old Helen Shapiro.

Aged 15, he was expelled from school for bad behaviour.

Marc Bolan Of T-Rex. Picture: Getty

He briefly became a model, and in 1965, he changed his name to Marc Bolan via Marc Bowland. There are several stories behind why this name came about, including that it was derived from Likely Lads actor James Bolam, that it was a contraction of Bob Dylan, and that Decca Records chose the name.

Marc Bolan founded Tyrannosaurus Rex in 1967, following a handful of failed solo singles.

After a rather disastrous performance as a four-piece electric rock band at the Electric Garden in London's Covent Garden alongside drummer Steve Porter, guitarist Ben Cartland and an unknown bassist, the group immediately broke up.

Bolan kept the name and Porter, who switched to drumming under the name Steve Peregrin Took, and the two began performing as a duo.

By the early 1970s, Took left the band and Marc was joined by Steve Currie, Mickey Finn and Bill Legend.

When and how did Marc Bolan die?

Marc Bolan's rock Shrine Memorial in Barnes, South West London. Picture: Getty

On September 16, 1977, Marc Bolan was a passenger in a Mini 1275GT driven by singer Gloria Jones, as they went home from Mortons club and restaurant in Berkeley Square.

After she crossed a humpback bridge near Gipsy Lane in Barnes, southwest London, the car struck a fence post and then a tree.

Bolan was killed instantly, while Jones suffered a broken arm and broken jaw.

The car crash site has become a shrine to his memory, with fans leaving tributes by the tree.

Marc Bolan's funeral service was held on September 20, 1977, at the Golders Green Crematorium in North London. David Bowie, Rod Stewart, Tony Visconti, and Steve Harley were in attendance, while a swan-shaped floral tribute was displayed outside the service, referring to his song 'Ride a White Swan'.

Was Marc Bolan married and did he have children?

Marc Bolan with Gloria and Rolan in 1975. Picture: Getty

Marc Bolan and 'Tainted Love' singer Gloria Jones were in a romantic relationship from 1973 until his death in September 1977.

The couple had a son together in September 1975, called Rolan Bolan.

Now in his 40s, Rolan contributed vocals to a new version of T Rex's 'Children of the Revolution' for a Marc Bolan tribute album in 2020.

Rolan Bolan in 2013. Picture: Getty