The Story of... 'Merry Xmas Everybody' by Slade
21 December 2020, 16:19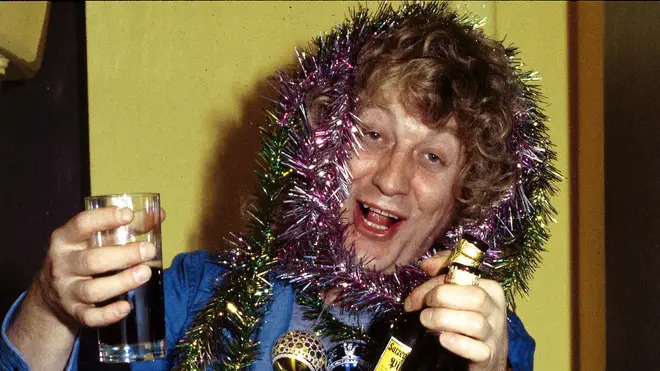 In the immortal words of Noddy Holder, "it's Christmaaaaaas!".
Before the days of 1970s glam rock, the nation's favourite Christmas tunes were still the old standards such as 'Winter Wonderland', 'The Christmas Song' or 'Let It Snow'.
But the '70s brought with it a new love for festive tunes thanks to Mud, Wizzard, Johnny Mathis and, of course, Slade.
The biggest Christmas song for decades was the Christmas number one for 1973, cementing Slade as the UK's most popular band of the time. Fast forward nearly 50 years later, and it's still heard on British radio, and even Robbie Williams has covered it for his Christmas Present album.
But how did the song come to be?
Who wrote 'Merry Xmas Everybody'?

Slade (L-R Jim Lea, Dave Hill, Don Powell and Noddy Holder). Picture: Getty

By 1973, Slade had already scored two number ones: 'Cum On Feel The Noize' and 'Skweeze Me Pleeze Me'.

That year, their manager Chas Chandler suggested to the band that they write and record a Christmas song. Although most of the band weren't too convinced, Jim Lea came up with the majority of the song while having a shower.

After writing the verse melody, Lea remembered a song Noddy Holder had got rid of in 1967, which he had written when the band were still called the 'N Betweens.

Called 'Buy Me a Rocking Chair', it was Noddy's first solo composition. 'Merry Xmas Everybody' took the melody of this song for the chorus, with Lea's melody for the verses.

Jim Lea tells the story behind Merry Xmas Everybody!

Speaking to Record Mirror in 1984, Lea said: "Nod had written the chorus of it in 1967. In those days it was all flower power and Sgt. Pepper and Nod had written this tune.

"The verse was naff but then he came to the chorus and went 'Buy me a rocking chair to watch the world go by, buy me a looking glass, I'll look you in the eye' - very Sgt. Pepper.

"I don't use tape recorders, I just remember everything and if something's been written 10 or 15 years ago, it stays up there in my head. I never forgot that chorus, and I was in the shower in America somewhere thinking - Bob Dylan, Bob Dylan - and suddenly out came "are you hanging up the stocking on the wall" and I thought that'll go with that chorus Nod did in '67.

"So I rang Nod and said what about doing a Christmas song and he said alright, so I played it to him and that was it."

What inspired it?

Merry Christmas Everybody - Slade

After a night out at the pub, Noddy finished the song at his mother's house in Walsall. Speaking to the Daily Mail in 2007, he said: "We'd decided to write a Christmas song and I wanted to make it reflect a British family Christmas.

"Economically, the country was up the creek. The miners had been on strike, along with the grave-diggers, the bakers and almost everybody else. I think people wanted something to cheer them up – and so did I.

"That's why I came up with the line "Look to the future now, it's only just begun". Once I got the line, "Does your Granny always tell you that the old ones are the best", I knew I'd got a right cracker on my hands."

How did it perform in the charts?

Slade - Merry Christmas Everybody 1983 (Top Of The Pops)

Before its release, the song had about half a million advance orders. 350,000 copies were purchased when it was released, and was their sixth number one single.

Slade's record label Polydor had to to use their French pressing plant to keep up with the phenomenal demand, and the song sold over one million copies. Another Christmas classic, 'I Wish It Could Be Christmas Everyday' by Wizzard, had to settle for fourth place that year.

It stayed at number one until mid-January, and has re-entered the UK charts in over 10 years in total. Noddy has referred to the song as his pension scheme, as the song earns an estimated £500,000 a year thanks to royalties.