Pepsi and Shirlie facts: Wham! singers' ages, husbands, children and songs revealed
10 January 2023, 14:56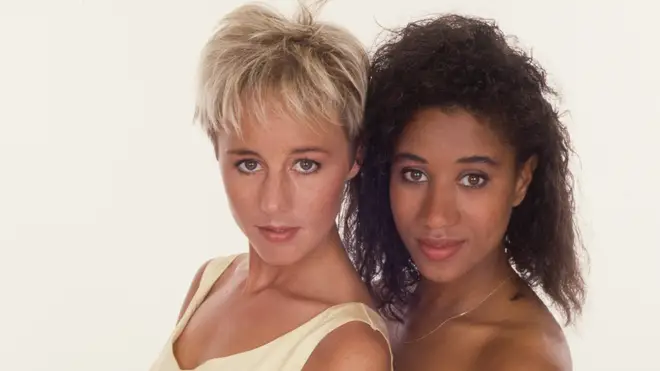 Pepsi and Shirlie were one of the most popular pop duos of the 1980s.
The pair first found fame as backing singers and dancers for Wham! - comprised of George Michael and Andrew Ridgeley - and they often appeared on stage and music videos for the legendary duo.
When Wham! called it a day in 1986, Pepsi and Shirlie continued as their own pop group, scoring a couple of big hits.
The girls are now back with their memoir All in Black and White, where they discuss their lives and careers, including their time as part of the world's biggest pop band.
When did Pepsi and Shirlie join Wham?

Wham! - Wake Me Up Before You Go-Go (Official Video)

Shirlie Holliman (now Shirlie Kemp) had intended to train as a horse riding instructor, but after she developed hay fever at 18, and with nothing else to do, her then-boyfriend Andrew Ridgeley suggested she come and dance while he and friend George Michael's band played at a local venue.

Alongside Dee C Lee, Shirlie joined Wham! full time as their backing dancer and singer.

However, Lee left the group to join the Style Council (and future husband Paul Weller), and she was replaced by Helen 'Pepsi' DeMacque.

How old are Pepsi and Shirlie?

Pepsi and Shirlie performing in 2012. Picture: Getty

Pepsi was born on December 10, 1958. She celebrated her 64th birthday in 2022.

She was born in Paddington, London, after her parents emigrated to Britain in the 1950s from St Lucia.

Shirlie was born on April 18, 1962, and celebrated her 60th birthday in 2022. She was born in Bushey Heath, Hertfordshire.

What songs did Pepsi and Shirlie record?

Pepsi & Shirlie - Heartache - Top Of The Pops 29-01-1987

Pepsi and Shirlie released two albums as a duo: 1987's All Right Now and 1991's Change.

They scored two UK top 10 hits: 'Heartache' was a number two single in 1986 (kept off number one by George Michael!), and 'Goodbye Stranger' peaked at number nine in 1987.

What did Pepsi and Shirlie do next?

Pepsi & Shirlie returned in 2000 to record backing vocals on Geri Halliwell's UK number one hit 'Bag It Up'.

The duo also reunited for the Here & Now 10th Anniversary tour in 2011.

The pair also appeared on stage at the 2017 Brit Awards to pay tribute to George Michael, alongside Andrew Ridgeley.

Who are Pepsi and Shirlie's husbands and how many children do they have?

Martin and Shirlie Kemp. Picture: Getty

Pepsi now lives with husband James Crockett in St Lucia, where they operate a charter sailing business.

Shirlie married Spandau Ballet bassist and actor Martin Kemp in 1988.

The couple met through mutual friend George Michael, and they married in St Lucia.

They have two children: daughter Harley Moon Kemp (born 1989), and son Roman Kemp (born 1993).

Martin Kemp and Shirlie Kemp at The Global Awards