The 10 best podcasts of 2023
27 September 2023, 15:56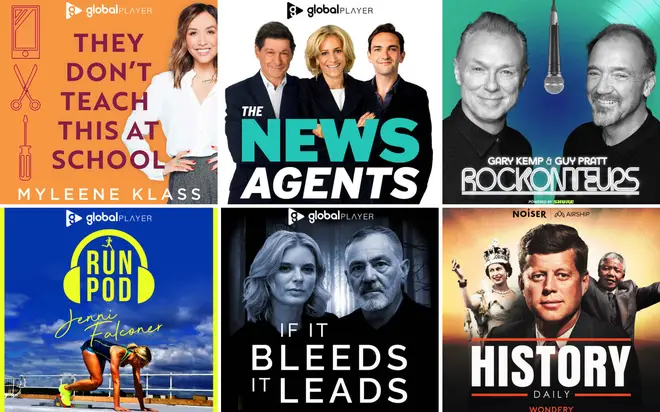 Looking for a great podcast to listen to? Here's our handy guide for 2023!
Whether you're searching for comedy, music, true crime, history or news, there is a podcast for you.
Each of the podcasts below are available on Global Player so you can find them all in one place.
They Don't Teach This at School with Myleene Klass

They Don't Teach This at School.

Picture: Global

Smooth Radio presenter Myleene Klass has been on a mission to help equip everyone with the skills they need to be capable, adaptable, confident and in control of their life, no matter their age.

They Don't Teach This At School follows the success of Myleene's book of the same title, as each week, Myleene sits down with a celebrity friend for a wide-ranging conversation about the skills and people that helped shaped them when they were young.

Across 10 episodes, Myleene speaks to a host of well-known guests, including Amanda Holden, Roman Kemp, singer Sophie Ellis-Bextor, former world champion boxer Amir Khan, comedian Matt Lucas, presenters Vanessa Feltz and Lauren Laverne, and author Caitlin Moran.

RunPod with Jenni Falconer

RunPod.

Picture: Global

RunPod is a weekly run club you can join simply by listening. In this series, Smooth's Jenni Falconer welcomes special guests who share that passion for running.

Together they'll discuss the challenge, reward and sometimes obsession of pounding the pavement whilst asking what drives us to run, why some catch the bug more than others, and how it can transform the lives of those who do it.

Along the way, you'll hear top training tips, monumental mistakes and some inspirational stories. So, whether you're a seasoned marathoner, treadmill trainer, fitness guru or simply putting off that Sunday jog, RunPod is here for you.

The News Agents

The News Agents featuresEmily Maitlis, Jon Sopel and Lewis Goodall.

Picture: Global

Emily Maitlis, Jon Sopel and Lewis Goodall – three of the UK's top journalists – host a daily news podcast: The News Agents.

They're not just here to tell you what's happening, but why. Expect astute analysis and explanation of the day's news – and a healthy dose of scepticism and the ability to laugh at it all when needed!

Episodes are available every weekday afternoon.

Alien Kidnap Club

Johnny Vaughan's Alien Kidnap Club podcast is available on Global Player.

Picture: Global

Radio X's Johnny Vaughan sits down with alleged alien abductees and asks the pressing question "Are aliens real?".

In a series of six exclusive interviews, Johnny is joined by abductees who claim alien contact has changed their lives forever, that they have been to the distant reaches of space and seen beings and places that we simply cannot imagine.

Some of them believe they are aliens, that they are infinite and that they cannot die. Some say they have opened portals through space, can travel between alternate realities and have visited the centre of the sun.

Could they help to explain what Johnny himself has experienced?

If It Bleeds, It Leads

If It Bleeds, It Leads.

Picture: Global

Could you be a criminal? What separates the way you think, from the criminal mind? Join the world's leading professor of criminology, Prof. David Wilson and star of Silent Witness Emilia Fox as they discover what is really going on behind some of the most notorious crimes.

In this exclusive podcast series, you'll learn from never-heard-before interviews with offenders, the police, crime experts and investigators exactly what is going on in the criminal mind.

What do you do with have-a-go heroes who try to stop you robbing a bank? What's it like inside an escalating prison riot? And how do you deal with Britain's most infamous hitman telling you he's been ordered to kill you?

Rockonteurs

Rockonteurs.

Picture: Acast/Shure

Rockonteurs is a podcast all about the real stories behind real music.

Presented by Spandau Ballet's Gary Kemp, who wrote and performed megahits like 'Gold' and 'True', and Guy Pratt, a bass player who shaped songs for the likes of Madonna and Pink Floyd, you'll hear exclusive stories of life on the road, in the studio and what really happened behind the scenes from artists who wrote, performed and produced the some of the biggest classic rock and pop tracks of all time.

Guests include Sir Bob Geldof, Roxy Music's Phil Manzanera, super-producer Trevor Horn, Chris Difford of Squeeze and their bandmate from A Saucerful of Secrets, Pink Floyd's Nick Mason.

History Daily

History Daily.

Picture: Wondery/Noiser/Airship

On History Daily, every weekday, host Lindsay Graham takes you back in time to explore a momentous event that happened 'on this day' in history.

Whether it's to remember the tragedy of December 7th, 1941, the day "that will live in infamy," or to celebrate that 20th day in July, 1969, when mankind reached the moon, History Daily is there to tell you the true stories of the people and events that shaped our world—one day at a time.

So if you're stuck in traffic, bored at work—wherever you are, listen to History Daily to remind yourself that something incredible happened to make that day historic.

Quickly Kevin, Will He Score?

Quickly Kevin.

Picture: Quickly Kevin

This series features '90's football aficionado Josh Widdicombe is joined by friends, and fellow 90s experts, co-host Chris Scull and 'Director of Podcast' Michael Marden, as the trio embark on a tour of niche football topics of the period 1st January 1990 to 31st December 1999.

Each episode looks back at famous and not-so-famous '90s football moments, usually with an interview with a football legend or comic guest.

The Osbournes Podcast

The Osbournes Podcast.

Picture: Osbourne Digital Media

In this podcast, take a ride with America's original reality family as they reminisce about the Emmy Award-winning MTV series, swap stories with their most fascinating friends and catch up on present-day events.

In this 10-episode podcast, Jack Osbourne leads Sharon, Ozzy and Kelly on a wild, unfiltered and unpredictable journey filled with laughter, love and everything it means to be an Osbourne.

Off Menu

Off Menu podcast features comedians Ed Gamble and James Acaster.

Picture: Global

Comedians Ed Gamble and James Acaster invite special guests into their magical restaurant to each choose their favourite starter, main course, side dish, dessert and drink. Ever wanted to eat your dream meal?

It's time to order Off Menu.