ABBA's Agnetha and Take That's Gary Barlow classic duet gets an A+ re-imagining
29 September 2023, 12:31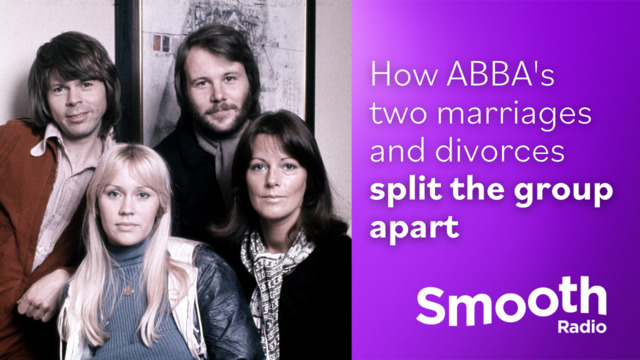 Smooth's Untold Stories: How ABBA's two marriages and divorces split the group apart for 40 years
'I Should've Followed You Home' gets a reworking for its tenth anniversary.
When it comes to perfect pop, few can compete with the majesty of ABBA's back catalogue.
One person who has certainly given it a go over the years is Take That's chief songwriter Gary Barlow.
Those two words collided ten years ago, when Gary joined forces with ABBAs Agnetha Fältskog for their duet 'I Should've Followed You Home'.
Written by Barlow with songwriter/producer Jorgen Elofsson, the song was the third single to be released from Agnetha 2013 album A.
Gary and Agnetha also performed it during that year's Children in Need Rocks concert, marking Agnetha's first live show in a quarter of a century.
Agnetha Fältskog - I Should Have Followed You Home (feat. Gary Barlow) (Official Audio)
That record was Agnetha's last solo effort, and it's being reworked and rereleased next month as A+, opening with new song 'Where Do We Go From Here?' and featuring reimagined versions of songs that originally appeared on A.
"I have such happy memories with this song, and my first meeting with Gary!" said Agnetha. "I love this duet and the new version is even better!!!"
Agnetha and Elofsson worked with producer Anton 'Hybrid' Martensson to remake the album, keeping only the original vocals and recording completely new backing music.
"A couple of years ago I heard one of the songs from my last album A on the radio," Agnetha told fans.
Agnetha Fältskog - I Should´ve Followed You Home (Lyric Video) ft. Gary Barlow
"I have lots of fond memories from making that album, so I couldn't help but smile, time flies. Suddenly it hit me, what would the album sound like if we had made it today?"
He added: "I couldn't stop thinking about it. I reached out to the boys who produced A back in 2013 - 'What would you guys think about reimagining A and making a totally new version of it?'
"They loved the idea! 'Let's try!'. A while later I heard the first reworked song, and I must say I absolutely loved it! It sounded so fresh and modern, even better than I had imagined it!
A legendary performance by Gary Barlow and Agnetha Fältskog's at Children In Need Rocks - BBC
"We named the album A+ and as a cherry on top we even recorded a brand new song! And that will be the first thing you´ll hear from me. Now I can't wait to hear what you think about it! I hope you like it as much as I do!"
A+ is released on October 13 via BMG and is available to pre-order now.
Since the release of the original A album, Agnetha reunited with Björn Ulvaeus, Benny Andersson, and Anni-Frid Lyngstad for the long-teased ABBA Voyage album, and filmed motion-capture performances for the ongoing ABBA-tar led Voyage residency.