ABBA's albums ranked from worst to best
28 July 2022, 17:31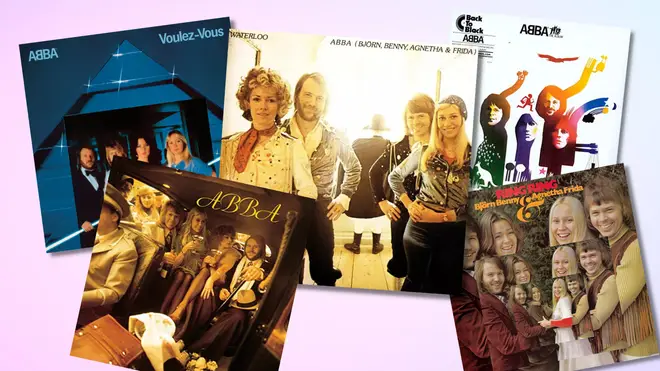 ABBA have released nine studio albums in total, and every one of them is a pop gem.
In late 2021, ABBA released their long-awaited ninth studio album Voyage. It was their first album in 40 years, and it comfortably sat alongside their most iconic LPs of the past.
Agnetha Fältskog, Björn Ulvaeus, Benny Andersson, and Anni-Frid Lyngstad created pop albums that sold millions around the world, with hit songs that have stood the test of time.
Here are all of ABBA's albums to date, ranked from worst to best:
Ring Ring (1973)

ABBA - Ring Ring.

Picture: Polar

ABBA weren't even called ABBA when they released their debut album, as it was credited to Björn & Benny, Agnetha & Frida.

But it was clear that they hadn't quite worked out their sound, and on this album we actually hear the men sing more than usual. There's even country and show tune styles.

The title track was a minor hit, but otherwise it was relatively filler (by ABBA's standards).

Waterloo (1974)

ABBA - Waterloo.

Picture: Polar/Epic

Now called ABBA for their second album, and it was a better example of what was to come.

Released just a month before they won Eurovision with the album's title track, the album is still a disjointed affair, with strange glam rock on 'King Kong Song' and attempts at reggae.

'Honey Honey' was the second hit from the album, but ABBA were just getting into their stride.

Voyage (2021)

ABBA - Voyage album artwork.

Picture: Polydor/ABBA

No-one expected ABBA to reunite after 40 years away, let alone release a full album.

And even more amazingly, it was a pretty darned good album for a foursome who had largely not seen each other for four decades.

There's plenty of catchy songs, with the singles 'Don't Shut Me Down' and 'I Still Have Faith in You' the standouts. But there's still some strange choices, like the Christmas song 'Little Things' in the middle of it.

ABBA: The Album (1977)

ABBA: The Album.

Picture: Polar/Epic

ABBA: The Album was essentially a soundtrack to ABBA: The Movie, a documentary about the group's tour of Australia.

This was ABBA at the height of their fame, and the album features classics like 'The Name of the Game' and 'Take a Chance on Me'.

However, perhaps because it wasn't recorded as a traditional album, it does feel a bit random at times, including the final suite 'The Girl with the Golden Hair: Three Scenes From a Mini-Musical'.

ABBA (1975)

ABBA - ABBA.

Picture: Polar/Epic

ABBA got into their groove with their self-titled third album.

It featured the hits 'SOS', 'Mamma Mia' and 'I Do, I Do, I Do, I Do, I Do', but it also featured a strange reggae detour on 'Tropical Loveland' that is unlikely to appear in the next Mamma Mia film.

Voulez-Vous (1979)

ABBA - Voulez-Vous.

Picture: Polar/Epic

ABBA went full disco for their sixth album, with bangers like 'Angeleyes' and the title track particular highlights.

There's also the ballads 'I Have a Dream' and 'Chiquitita' and the rare Benny and Bjorn tune 'Does Your Mother Know' (which hasn't quite aged as well lyrically at least).

The album as a whole is only let down by the datedness of its era compared to their other LPs, but it's still a cracker.

Arrival (1976)

ABBA - Arrival.

Picture: Polar/Epic

ABBA's fourth album had the most hits, including their greatest ever - 'Dancing Queen'.

There's also 'Money Money Money', 'Knowing Me, Knowing You', and 'Fernando' on later editions.

A couple of songs also deserve more love like 'When I Kissed the Teacher' and 'Dum Dum Diddle'.

Super Trouper (1980)

ABBA - Super Trouper.

Picture: Polar/Epic

By the time Super Trouper came out, inner turmoil had occurred within ABBA, as both marriages had broken down.

This was ABBA's very own Rumours, where despite the struggles they created a brilliant piece of work.

The greatest of which is 'The Winner Takes It All', alongside gems 'Lay All Your Love On Me', 'Our Last Summer', the title track and 'Andante, Andante'.

The Visitors (1981)

ABBA - The Visitors.

Picture: Polar/Epic

ABBA's final album (before Voyage) is also their very best, which makes you think just what they might have created if they carried on.

While there aren't as many hits, this just made for a perfect overall pop albums, with fantastic songs such as the single 'One of Us', the heartbreaking 'Slipping Through My Fingers', and the totally underrated 'The Day Before You Came'.

Every song is a gem, and was a brilliant send-off for the best pop band of all time.