The 10 greatest Eagles songs, ranked
24 August 2023, 11:28 | Updated: 24 August 2023, 16:03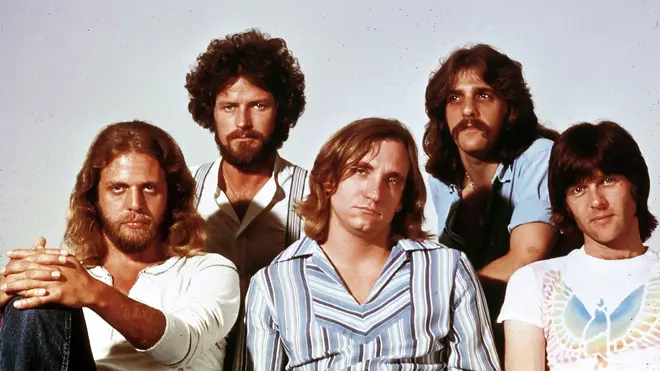 The Eagles were one of the biggest bands of the 1970s, thanks to their sweet sound that mixed soft rock, country and folk.
In a relatively short space of time, they became one of the world's most popular groups, and they have two of the three biggest-selling albums in US history.
Despite a severe breakup in the 1980s, they later reunited and continue to perform to sold out crowds across the world.
Here are our top 10 picks for the perfect Eagles soundtrack:
Life in the Fast Lane

Life in the Fast Lane (2013 Remaster)

Recorded for the Hotel California album, this song tells the story of a couple that takes their excessive lifestyle to the very edge.

Glenn Frey later revealed that the title came to him when he was riding on the freeway with a drug dealer known as 'The Count'. He asked the dealer to slow down and his reply was: "What do you mean? It's life in the fast lane!".

Take it To the Limit

Eagles - Take It To The Limit (Live)....

Randy Meisner, who sings lead vocals on this song, began writing it as his solo composition. As it remained unfinished when the time came for the One of These Nights album to be recorded, Don Henley and Glenn Frey helped Meisner in finishing it.

However, disputes over his reluctance to perform the song live would later directly lead to Meisner's departure from the band.

Peaceful Easy Feeling

Peaceful Easy Feeling (2013 Remaster)

One of the Eagles' first hits, songwriter Jack Tempchin penned the song when he was performing at folk coffee shops around his hometown of San Diego. A friend had created a poster to advertise his gigs, which included fake quotes from famous stars.

He wrote an early version of 'Peaceful Easy Feeling' on the back of a poster, and some time later was attempting to break into the music industry when Glenn Frey heard the song, and asked if he could use it for his new band, which had only just formed eight days before.

He gave Tempchin a cassette demo on the track the next day, who later said: "It was so good I couldn't believe it."

Seven Bridges Road

Seven Bridges Road (Live) (2013 Remaster)

Steve Young first recorded this song on his 1969 album Rock Salt & Nails, but its best-known version is a five-part harmony cover by English musician Iain Matthews, later recorded by Eagles in 1980. Matthews recorded it in 1973, and Eagles later borrowed the arrangement.

When the band began playing stadiums, the group would warm up by singing the song in a locker room shower area. After, each concert would then open with the group's five members singing it a capella into a single microphone.

Amazing harmonies on Eagles - 'Seven' Bridges Road'

Don Felder said it "blew the audience away. It was always a vocally unifying moment, all five voices coming together in harmony".This version was recorded at their concert at the Santa Monica Civic Auditorium.

Young later said: "I didn't like the Eagles' version at first. But the more I hear it, the better it sounds."

Tequila Sunrise

Eagles - Tequila Sunrise (Live From Melbourne) (Official Video) [4K]

Glenn Frey and Don Henley didn't write songs together for their debut album, and they decided they should work together for the follow-up, Desperado.

According to Frey, he was lying on a sofa playing the guitar, and came up with a guitar riff he described as "kinda Roy Orbison, kinda Mexican". He showed Henley the riff and said: "Maybe we should write something to this."

The song's title refers to a popular cocktail named Tequila Sunrise.

Take it Easy

Eagles - Take It Easy (Live on MTV 1994) (Official Video) [HD]

This was the Eagles' first ever single, and began life as a song by singer-songwriter Jackson Browne, before Glenn Frey offered to finish the song for him.

Browne later said: "After a couple of times when I declined to have him finish my song, I said, 'all right.' I finally thought, 'This is ridiculous. Go ahead and finish it. Do it.' And he finished it in spectacular fashion. And, what's more, arranged it in a way that was far superior to what I had written."

Desperado

Desperado Eagles New Zealand Live

Written by Don Henley and Glenn Frey, this featured on the Eagles' second album of the same name.

According to Henley, it was based on a song he started in 1968. The song was originally about a friend named Leo and began with "Leo, my God, why don't you come to your senses...".

One of These Nights

Eagles - One of these nights (Live).....

This song was the Eagles' second US number one single, taken from their fourth album of the same name.

The song was an attempt by the band to write something different from the country-rock and ballad songs they had hits with before.

Don Henley said: "We like to be a nice little country-rock band from Los Angeles ... about half the time."

Glenn Frey also said that the song is about putting things off: "We've all said, 'One of these nights I'm gonna do something -- get that girl, make that money, find that house.' We all have our dreams – a vision we hope will come true someday. When that 'someday' will come is up to each of us."

Lyin' Eyes

The Eagles - Lyin' Eyes - (Live at the capital center 1977)

The title and idea for this song came about when Glenn Frey and Don Henley were in their favourite Los Angeles restaurant Dan Tana's, and they started talking about beautiful women who were cheating on their husbands at the venue.

They apparently saw a young woman with a fat and much older wealthy man, and Frey said: "She can't even hide those lyin' eyes."

Hotel California

Eagles - Hotel California (Live 1977) (Official Video) [HD]

Don Henley gave several explanations about this song, ranging from "a journey from innocence to experience" to "a socio-political statement.

The melody of the song was composed by Don Felder while he stayed at a rented house on Malibu Beach. The metaphorical character of the story has inspired a number of interpretations by listeners.

In the 1980s, Christian evangelists alleged that it referred to a San Francisco hotel that was converted into a Church of Satan, while others thought it was the Camarillo State Mental Hospital.